Imperfect fruits yield perfect partnerships

January/February 2023 California Bountiful magazine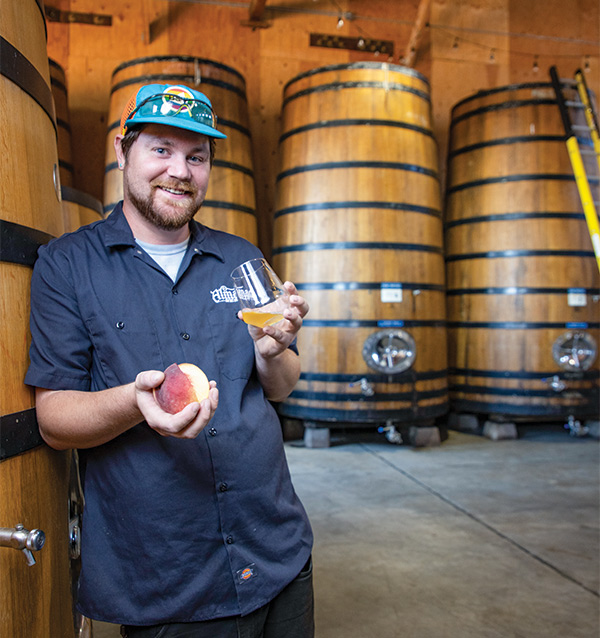 Brewery showcases
California fruit in sour beers
Story by Jolaine Collins
Photos by Lori Eanes
Fresno County farmer Bryce Loewen had a chat at a San Francisco farmers market more than a decade ago with a couple of avid home brewers intrigued with the idea of using his peaches to make beer. Recalling that conversation today, he says he couldn't have imagined where it would lead.
As it turned out, those home brewers grew their venture into Almanac Beer Co., one of California's top-selling craft breweries. And Loewen now supplies the company with up to 12 tons of organic stone fruit each summer from his family's Blossom Bluff Orchards. His peaches, nectarines, apricots and plums are showcased in Almanac's popular oak-aged sour beers, sold in cans across the United States.
John Carlon, owner of Sierra Cascade Blueberry Farm in the Butte County foothills, shares a similar experience where ideas for making sour beers sparked between farmer and brewer over berry bins at the farmers market.
"The connection and inspiration that happened while tasting blueberries evolved into a valued, long-term relationship," Carlon says.
Almanac Beer Co. is Sierra Cascade's largest customer of secondary fruit. Since 2014, the craft brewery has purchased an average of 8,000 pounds of blueberries a year from Carlon's 9-acre organic blueberry farm, depending on the season's yield.
The blueberries and stone fruits are hand sorted, and any imperfect fruit is frozen fresh and packed at the farms for delivery to the brewery. Almanac's brewer estimates that close to 1/4 to 1/2 pound of stone fruit or blueberries go into making each 16-ounce can of Almanac's Sournova sour beer featuring the fruit's name.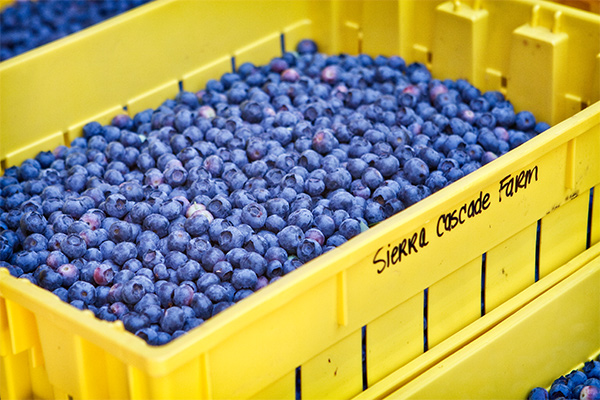 Growing long-term partnerships
Such long-term partnerships between family farms and local businesses benefit both parties. For growers such as Carlon and Loewen, it means having a secondary market for imperfect fruit that may be slightly blemished, over- or under-ripe and doesn't meet their premium standards for retail customers and farmers markets. For a craft brewery such as Almanac, it means having a supply of seasonal fruit with which to build its reputation as a producer of specialty beers and bold, experimental brews.
"We love working with California producers as much as we can," says Damian Fagan, the founder and CEO of Almanac Beer Co., who was part of those initial conversations with Loewen and Carlon. "Many of the relationships we enjoy today began at local farmers markets. We value those long-term partnerships."
Founded in 2011, Almanac Beer Co.—named for "The Old Farmer's Almanac" and inspired by California's agricultural bounty—had a modest beginning, releasing just four barrel-aged ales honoring the fruits of each season during its first year.
Beer aficionados sought and savored each quarterly release. While sour beers have been around for more than a century, they were piquing the interest of American consumers during Almanac's early days.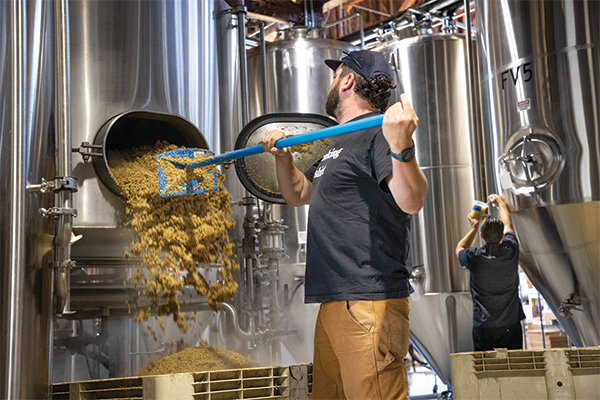 A broad lineup of beer
Initially encouraged by California's farm-to-table movement, Almanac's brewers set out to honor the state's agricultural diversity, growing the company's sour beer line by incorpor-
ating a broad range of seasonal fruits. Almanac's specialty beers also feature California-grown barley from Admiral Maltings, conveniently located next door to the brewery.
These days Almanac produces up to 200,000 cases a year featuring 40 to 60 types of fresh beer, including a hazy IPA as well as the oak-aged sour ales the company is best known for.
A lively taproom and outdoor beer garden welcome beer lovers to Almanac's 30,000-square-foot, redwood-beamed production and aging facility—a former airplane hangar on the decommissioned Alameda Naval Air Station near Oakland, built in 1942.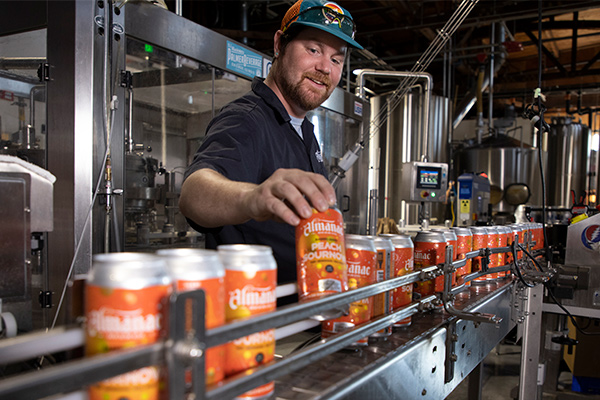 Sour beers and oak aging
As the name suggests, sour beers taste pleasantly sour or tart. They are lively and complex, often exhibiting slightly funky flavors and aromas.
Unlike fresh beers, sour beers are brewed with wild bacteria and yeast, resulting in tart, crisp flavors. By adding fruits, brewers can achieve a balance of sweet and acidic qualities with layered fruit flavors.
Almanac brewers age their sour beers in hundreds of oak barrels—many repurposed from wineries and distilleries—ranging from 50 to 1,500 gallons. The brewers typically use several yeast strains and lactobacillus (the bacteria used to make yogurt) to create layers of nuanced flavors. They allow these mixed cultures to ferment for months before adding fruit, hand selecting and blending the barrels' contents to create unique flavor profiles.
"Oak aging creates a beer that changes over time," says longtime Almanac brewmaster Phil Emerson. "The barrels allow oxygen in, amplifying and mellowing the fruit flavors more than a beer made only in stainless steel. Sometimes it takes a year to see the result of making a barrel-aged sour, but it's worth the wait. As with wine, oak-aged sour beers can be cellared and enjoyed years later for their nuanced flavors and aromas. They're very food friendly.
"Barrel-aged beers should be interesting enough for a veteran fan of sour beers and approachable enough for someone who is trying a sour for the first time," he adds.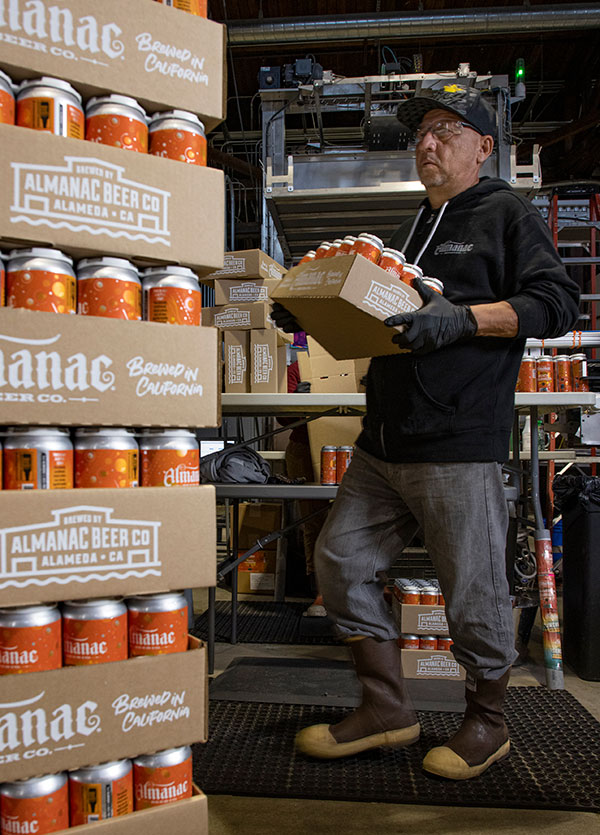 Seasonal fruit favorites and limited editions
The Almanac crew is constantly developing new beers using seasonal fruits, encouraged by the company's motto of "farm-to-barrel brewing."
"When peaches are in season, we'll brew with them. Sometimes we'll create limited editions or experiment with blending them with other fruits," says lead brewer Tucker Bush.
One such blend is Almanac's Bourbon Barrel Peche, a sour farmhouse ale aged in bourbon barrels using Blossom Bluff Orchards peaches and nectarines, and vanilla beans.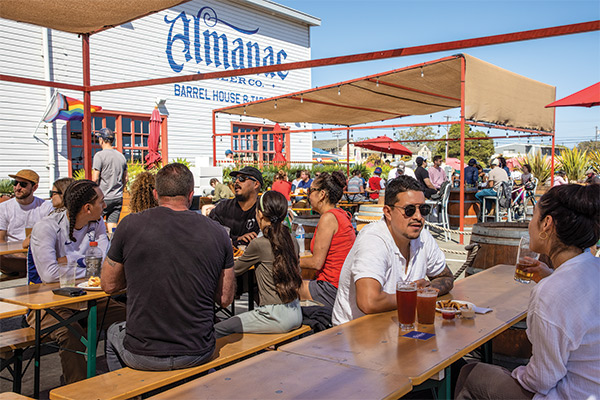 Relationships are like safety nets
Almanac's leaders agree with farmers Carlon and Loewen, who say their long-term partnerships are dependent on respect between the farmer and buyer.
"Relationships like the one we have with Almanac are not super common," Loewen says. "Both parties must be willing to grow and be flexible, and appreciate what the other does."
"When you have imperfect fruit, you need someone who can turn it into something that's valued," Carlon says. "Good partnerships with people like Almanac who are willing to work with you and take imperfect fruits are like safety nets for farmers. If the weather turns against you or things don't work perfectly, these are the people who will get you through the rough years."
Sour beers: Fun and
funky pairing tips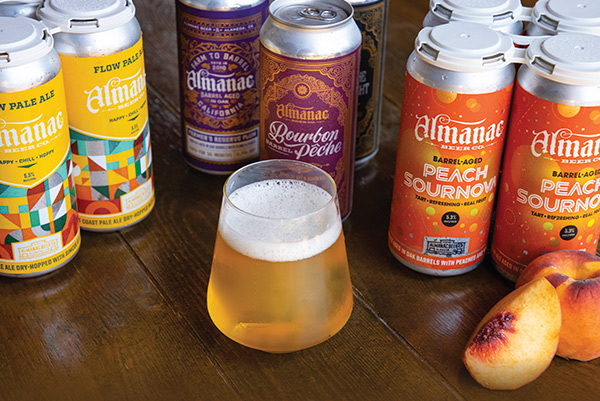 The refreshing acidity of sour beers makes them enjoyable on their own or with your favorite foods. Those aged in oak barrels can be fun and funky, and are especially adept at complementing what's on your table.
• Begin with a stemmed tulip glass, which enhances the aromatic experience.
• Serve sour beers at 45 to 50 degrees Fahrenheit. The slight chill helps to relax the beer's acidic notes.
• The "zing" of sour beers can be a shock to the palate. You might need a couple sips to acclimate to the flavors, which evolve as the beer opens up in the glass.
• Sour beers can refresh the palate when served with fatty cuts of beef such as a ribeye steak or salty, cured meats.
• Their bright acidity complements seafood and briny shellfish, especially those prepared with lemon and butter.
• Bring on the spice. Sour beers can stand up to curries, Mexican food and chili.
• Serve fruity sour beers with strong cheeses such as goat, sharp cheddar and Gorgonzola. Or try burrata cheese, drizzled with olive oil and sprinkled with salt.
• Consider pairing a variety of sour beers made with stone fruit or berries with creamy desserts such as cheesecake.
• Sour beer can be used for cooking, adding complexity to acidic salad dressings and extra texture to the batter for fried fish or chicken.