Distinctive delicacy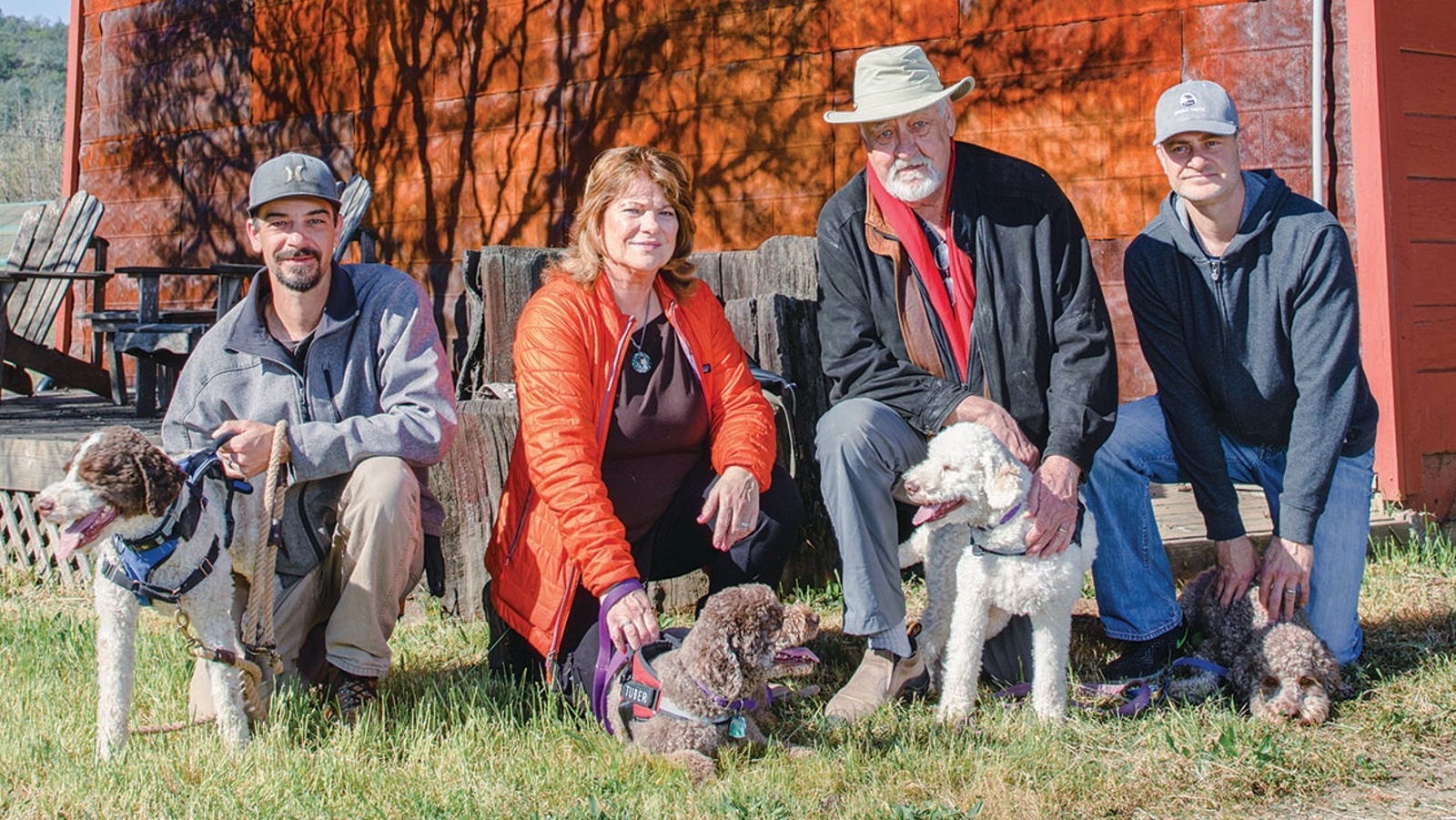 July/August 2022 California Bountiful magazine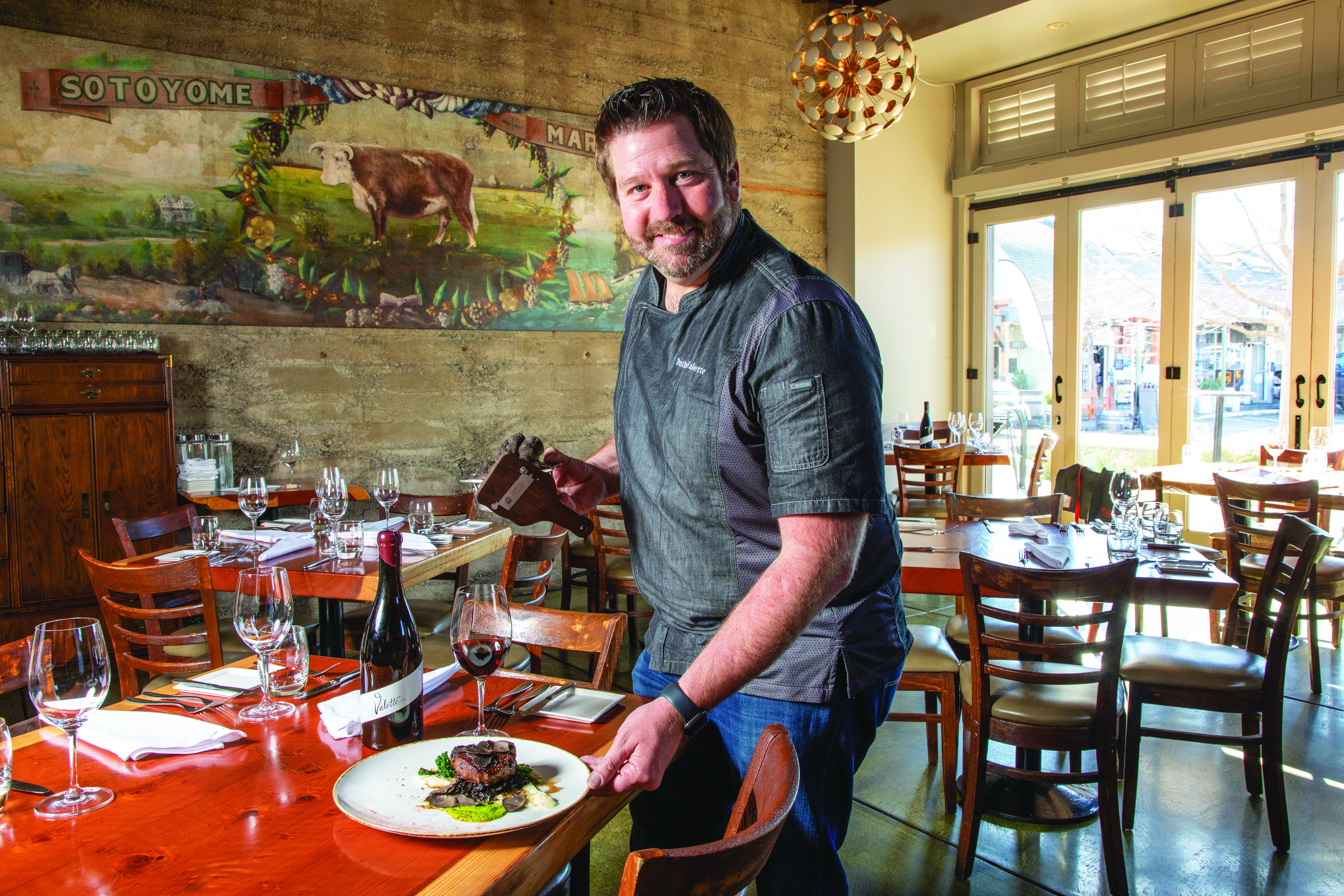 Ideal climate, increasing demand help truffles take root in state
Story by Linda DuBois
Photos by Lori Eanes
Diners at Dustin Valette's Healdsburg restaurants can enjoy a steak year-round—but if their timing is right, they'll find it accented with a savory bonus.
Valette is a big fan of truffles, a rare but increasingly popular culinary fungus that grows underground on tree roots. He learned to cook with them early in his 28-year career at the Michelin-starred restaurants where he honed his craft.
"There's nothing like the flavor of truffle," Valette says. "It's similar to a very intense mushroom flavor, but it's got a depth to it and a robust flavor that's unparalleled."
Truffles are a condiment, not a centerpiece of a dish, he explains. "You wouldn't have, say, a truffle soup. Truffles enhance the flavor and add a unique characteristic to a dish." They're especially good with high-fat foods, like cheese, eggs or cream sauces for pasta or risotto.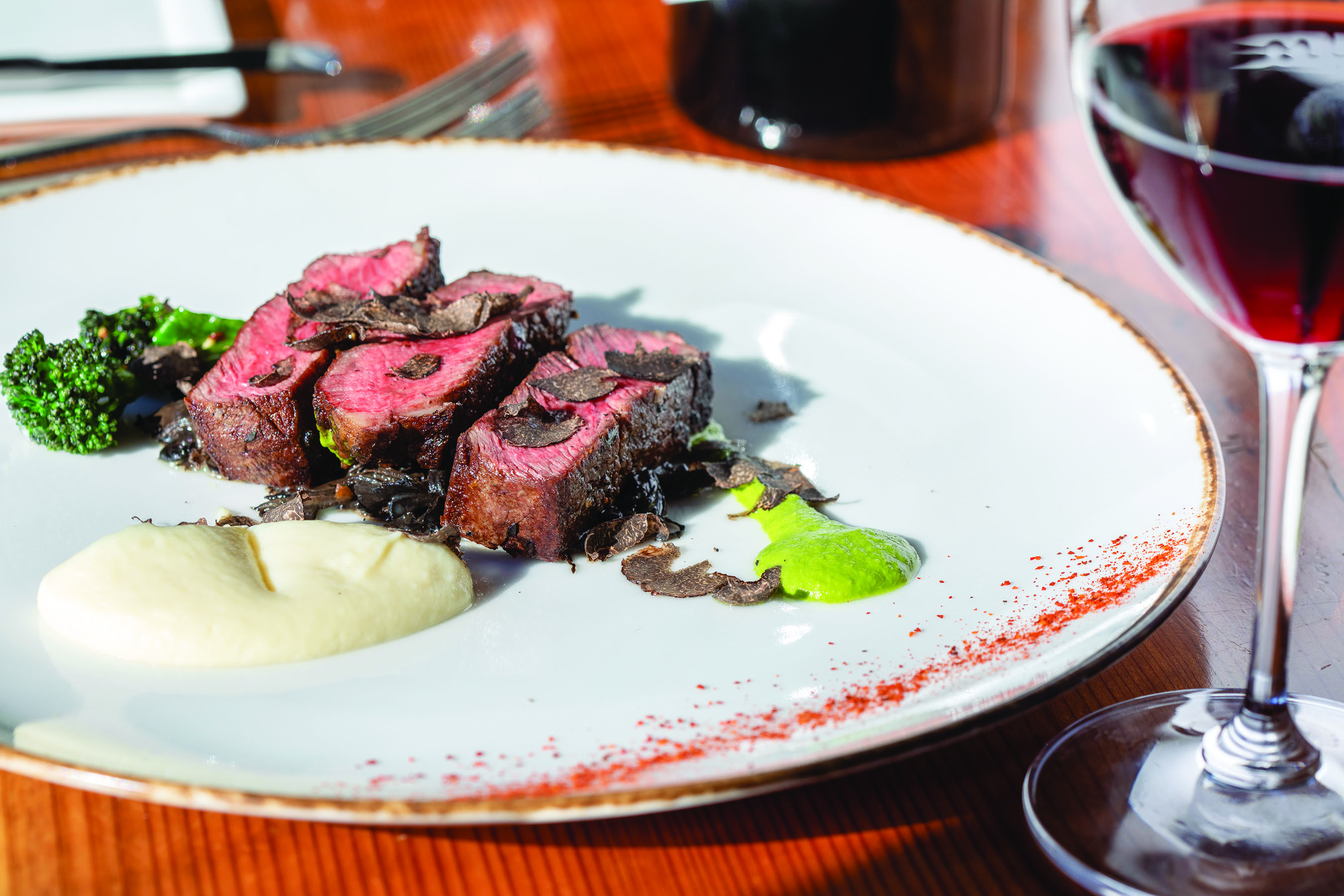 Prized and pricey
At his restaurants—Valette, The Matheson and The Matheson's casual outdoor Roof 106—he and his chefs thinly shave less than a 10th of an ounce of fresh truffle on any given dish.
Because one truffle can flavor several dishes, it keeps the price from being prohibitive.
"Truffles can sell for anywhere between $200 and $5,000 a pound," Valette says. "Just like with gold or diamonds or rare wines or paintings, scarcity drives up the cost."
Truffles are at their peak for only a few days. Chefs can use them immediately or preserve the flavor. The flavor can be cooked into oils or infused into foods—like whole raw eggs, avocados or sticks of butter—by placing them with a truffle inside an airtight container for two to three days. The infused sauces and foods can then be frozen, as can whole truffles.
Because truffles grow best in cool, damp conditions from November through March, Valette buys his from nearby growers when available and, if not, from Europe. In summer, he can get them from Australia.
Valette says the black winter Périgord truffle found in Sonoma County is among his favorites and in the top three varieties most sought by chefs anywhere.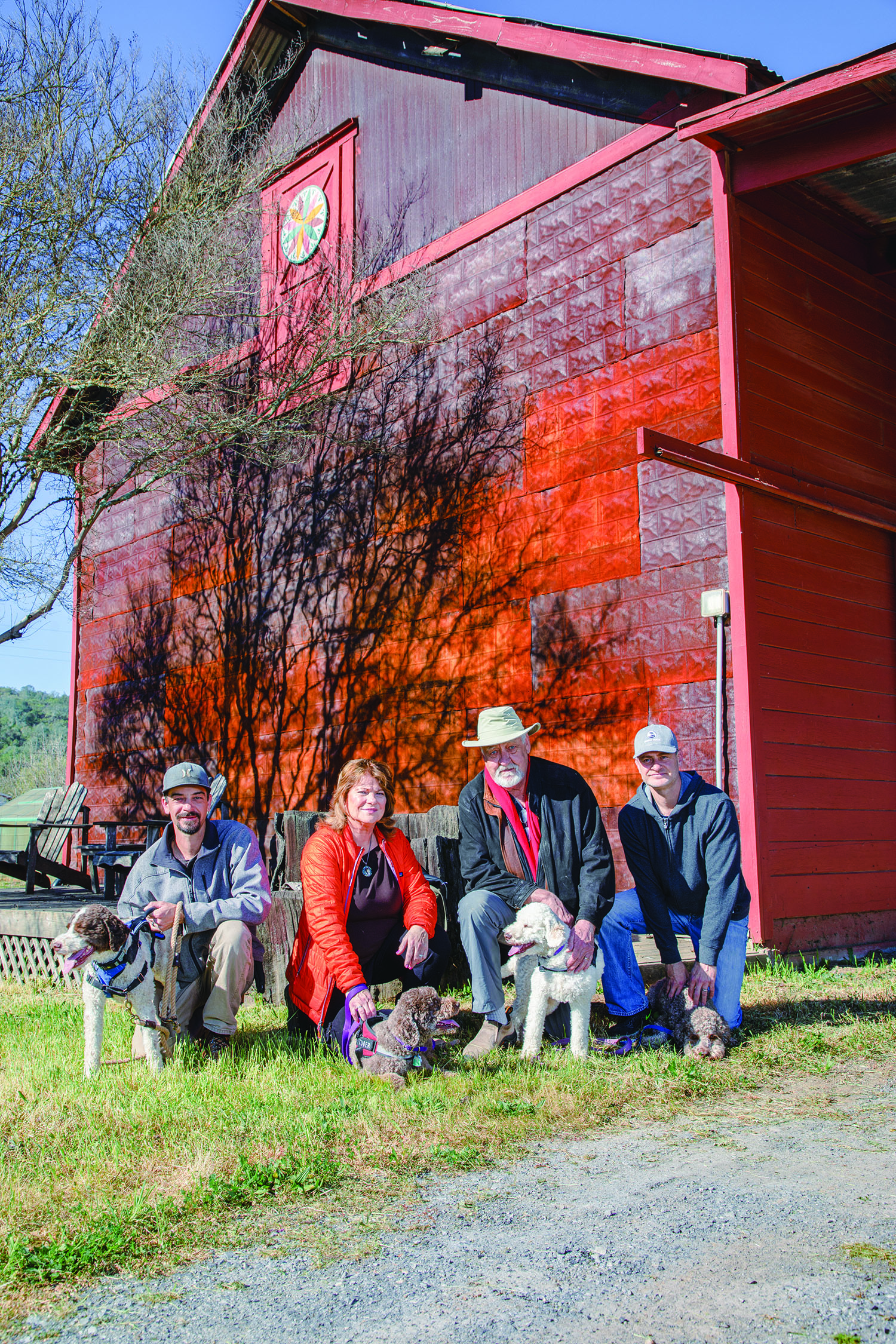 Challenging crop
One of these Périgord producers is Alexander Valley Truffle Co., owned by the Angerer family.
Fran Angerer grew up around his grandfather's farm. When he retired from a career in electrical engineering, he wanted to return to his roots.
After reading an article about truffles, he and his son Nathan bought a Geyserville vineyard in 2012 and replaced 10 acres of grapes with 1,500 hazelnut trees inoculated with Tuber Melanosporum—black truffles.
The family, which includes Fran's wife Robin and other son Seth, knew truffle orchards typically produce after five years, usually closer to 10—or possibly never at all. So, they kept their day jobs while also working to keep the trees healthy and free of pests and critters like gophers, squirrels and coyotes known to damage or eat truffles.
To learn all they could, they joined the North American Truffle Growers Association and took several trips to U.S. conferences and to Italy, Australia and Spain to pick the brains of veteran growers.
In 2019, they expanded to Healdsburg, planting 500 English oak and stone pine trees inoculated with white Bianchetto truffles, which are known to produce in as few as two years.
Finally, last November, nine years and eight months after starting their venture, their diligence paid off. They found a 5.2-ounce Périgord. Excitement ran high and despite multiple offers, they didn't sell their earthy gem worth at least $300, but instead asked chef Valette to cook them a five-course, truffle-filled celebratory dinner.
Fran Angerer acknowledges the wait wasn't easy. "It kind of gets to a point where you wonder if you made the right decision," he says with a chuckle. "Plus, it's an underground crop, so all that time we didn't know if it was even there."
There's also no way to speed the process. While scientists know that truffles help tree roots access water and nutrients and, in exchange, take in nutrients from the roots, they still don't know what exactly makes one form. "We probably know less about fungus than we do the bottom of the ocean," Angerer says.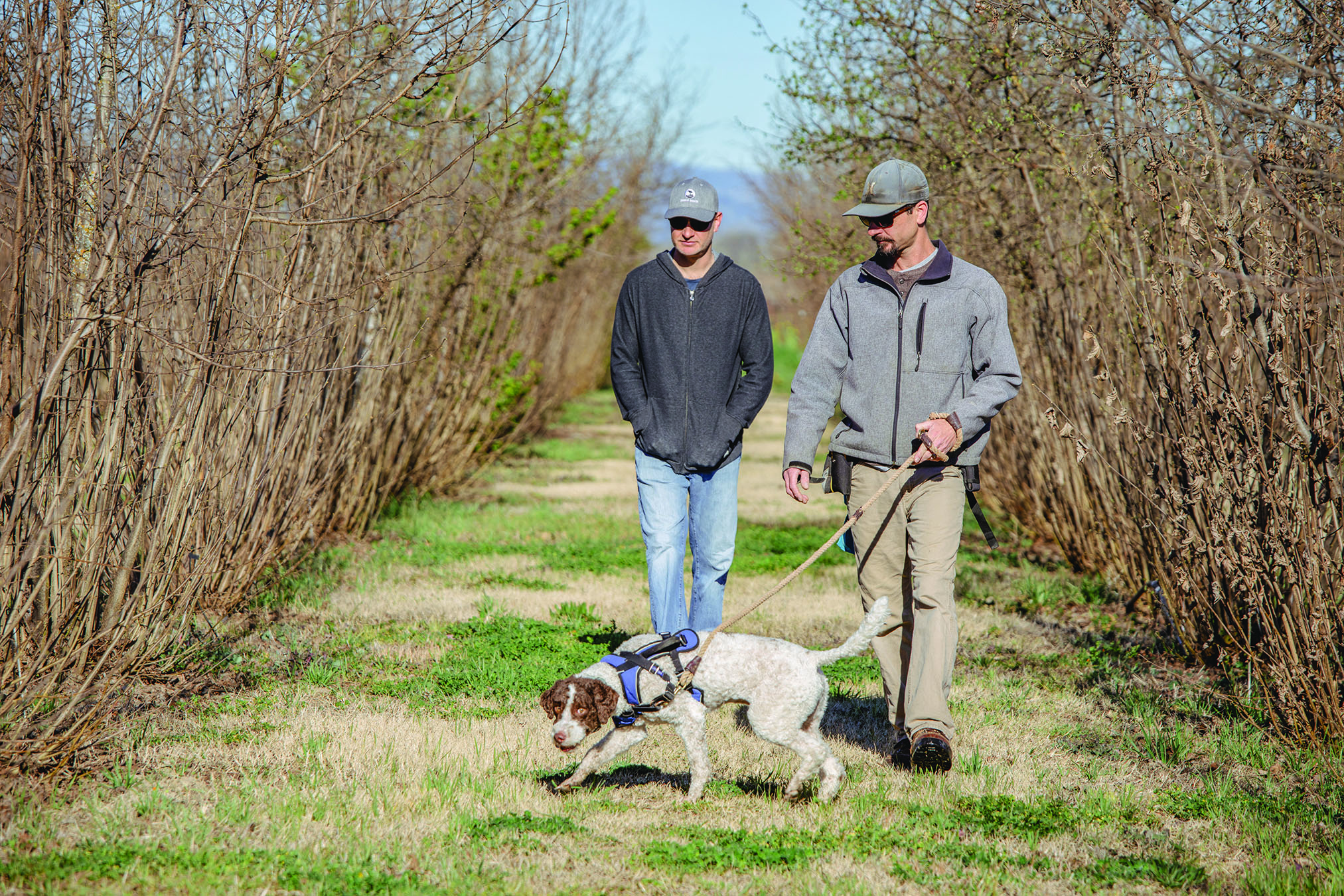 Going to the dogs
Once a truffle is exposed to air, it can't be re-inserted into the ground to continue ripening, Angerer says. So, a farmer needs an animal to sniff out truffles ready for harvest. For years, Europeans used pigs, but they'd often try to dig up and eat the truffles—leading to folk tales of truffle hunters missing fingers.
Hence, truffle dogs. While many breeds could hunt truffles with enough training, the Lagotto Romagnolo is especially gifted and is the only one bred specifically for this purpose.
Many breeders will put truffle oil on a new puppy's mother so it will associate the smell with a reward. As the dog grows, trainers hide small items dipped in truffle oil.
There are also truffle-dog training courses. Even the most skilled dogs need to learn to stay focused amid distractions—like critters fun to chase.
In 2014, the Angerers bought their first Lagotto Romagnolo, Tuber. She was bred with another Lagotto, Rico, and the family kept three puppies: Vito, Bella and Luke. They later added Leo.
The dogs get lots of practice finding truffles for Santa Rosa's Jackson Family Wines truffle growers, successful producers since 2017.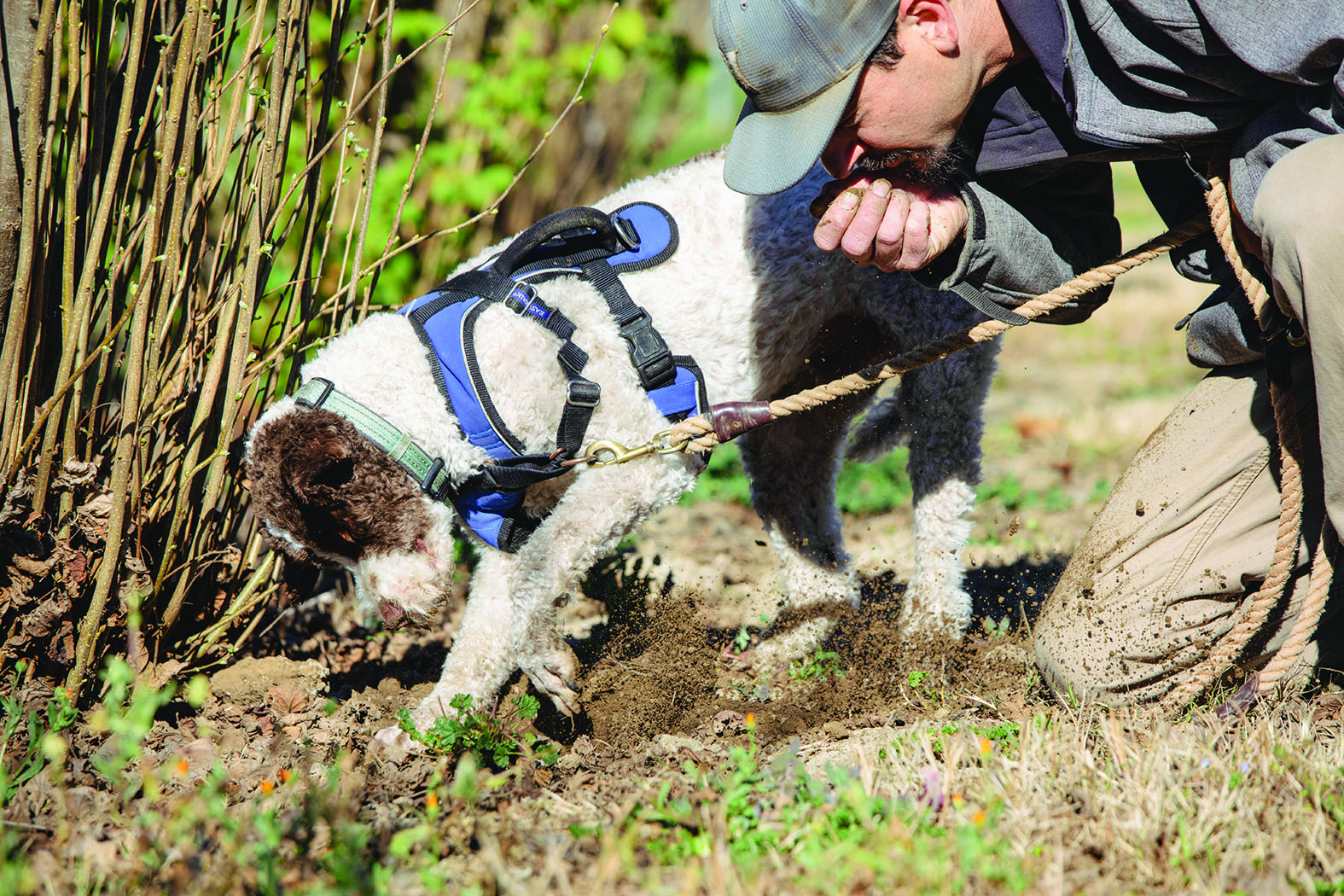 On the hunt
Truffle hunts take from two to five hours depending on the orchard's size, how many dogs and people help, and how many truffles they find, Angerer says. The best days for hunts are damp and muddy. The worst are windy—wind disperses the scent.
Dogs can be on-leash, taken down rows from tree to tree—Angerer's preferred method—or left off-leash to wander and sniff.
When a dog picks up a scent, it often snaps its head toward the smell, runs to the spot and either puts its nose to the ground or paws the dirt.
This happened in November when Leo guided Seth Angerer to the family's truffle—more than 60 feet away.
"When the dog marks, you have to get down on your hands and knees, dig up a little dirt and smell it. If you can smell the truffle, it's ready," Fran Angerer says.
Then farmers carefully dig them up, sometimes from a few inches beneath the surface and sometimes deeper.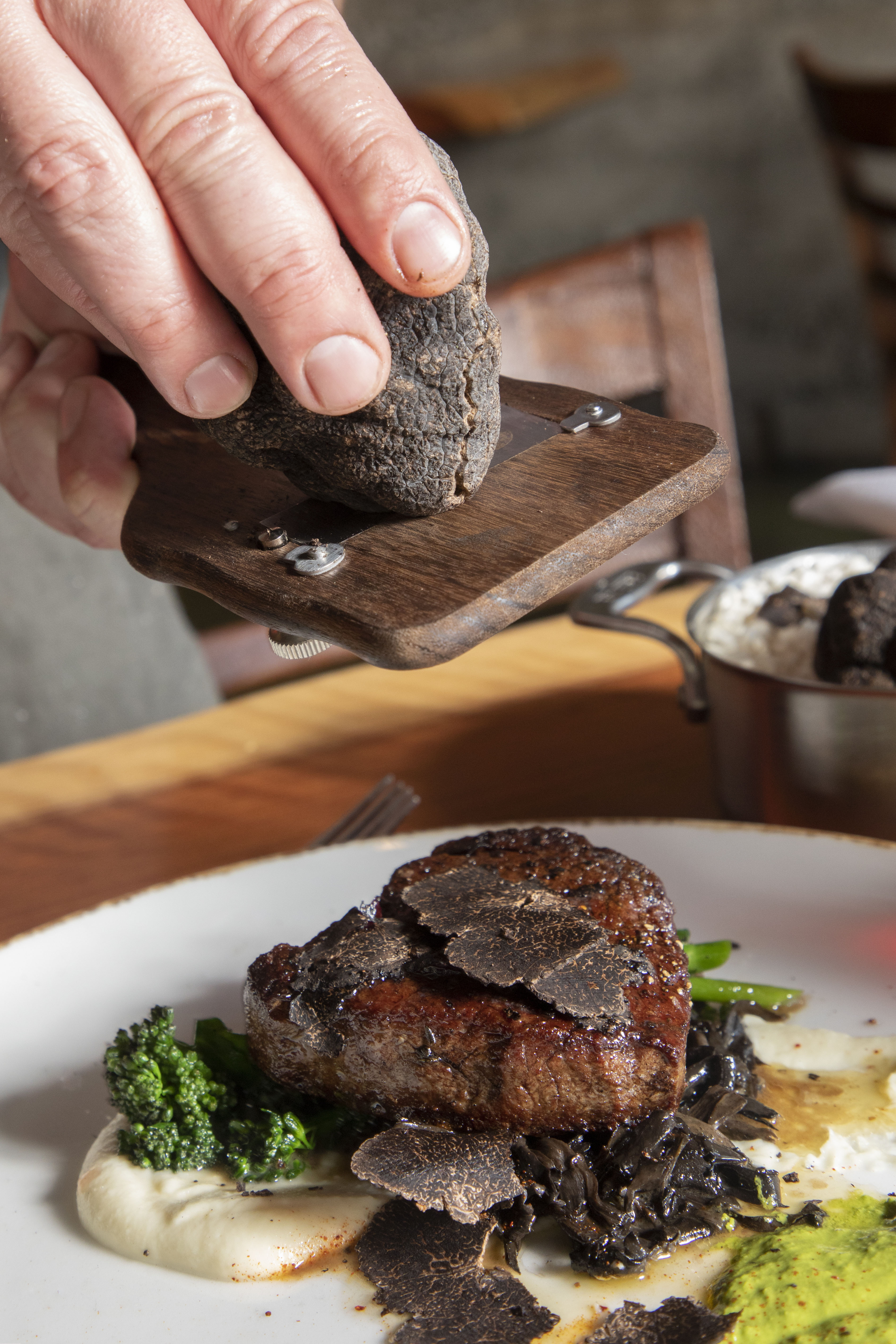 A growing industry
With an ideal truffle climate in Northern California, the state has at least two dozen growers, with about 24,000 trees, says Karen Passafaro, North American Truffle Growers Association president. And the number keeps growing.
While most growers she's met are financially secure retirees or younger people with other full-time jobs, she predicts that will change.
"We definitely expect it to keep increasing, and I think as more people start to be successful, it will attract more growers. At the same time, we're not worried about an oversupply," she says. "I think as more people have product to sell, there's going to be more and more restaurants that start to offer truffle dishes."
Angerer is optimistic, too.
California farmers grow nuts, rice, all kinds of fruits and vegetables and raise chickens and cattle, he notes. "So why not truffles? I think it's going to take off. I really do. But if people like us don't start, it'll never happen. So, we're like pioneers."
Truffles have a wild history
Truffles have grown in the wild and been considered a delicacy since ancient times.
"Egyptian pharaohs served them at their royal tables and Romans enjoyed their flavor while thinking they were produced by thunder and lightning," says Sonoma County truffle grower Fran Angerer.
For centuries, people thought truffles couldn't be farmed and truffle hunters kept wild truffle locations a tight-lipped secret.
With more than 400 known species and more identified every year, only a handful have been successfully cultivated.
Angerer grows the Périgord, a highly prized variety originally discovered in the forests of France. In the 1800s, French truffle hunters discovered they could cultivate truffles by transplanting seedlings collected at the base of truffle-producing oak trees. Truffle production then spread quickly through southern France during the next century, stalling only for the world wars. Now, sapling roots are typically inoculated with truffle spores.
In the past 40 years, truffle cultivation has spread to the United Kingdom, Spain, New Zealand, Australia, Chile, South Africa and the United States. But supply still cannot meet demand and truffles remain one of the most expensive foods in the world.