Now from Nationwide

July/August 2023 California Bountiful magazine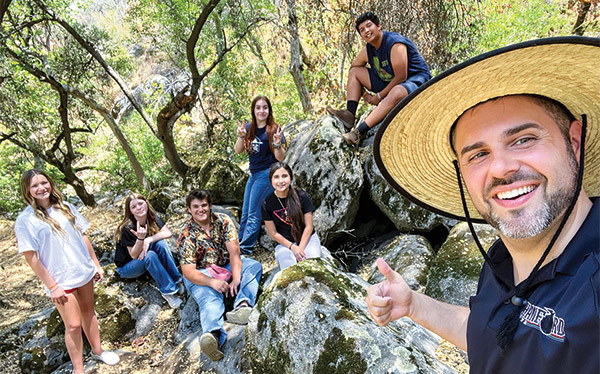 Hanford High School teacher honored as 'Ag Educator of the Year'
After recognizing six exceptional California teachers as finalists through the Golden Owl Award, the California FFA Association, in partnership with Nationwide and the California Farm Bureau, selected Jason Ferreira, agricultural teacher at Hanford High School, as California's 2022-2023 "Ag Educator of the Year." Ferreira received the coveted Golden Owl Award trophy, along with a $3,000 Nationwide-funded donation to further his school's agricultural education efforts, at the annual California FFA State Leadership Conference.
Upon hearing of his win, Ferreira expressed gratitude to his students, colleagues and community. "I'm grateful for everyone who has ever played a part in helping me serve my students, program and community selflessly," he said. "Receiving the Golden Owl Award reminds me of the powerful impact that FFA advisors have on our community. I am humbled and proud to be a positive representative for California agricultural education and look forward to seeing the next generation of Golden Owls aspire to achieve success with their careers."
Finalists for the Golden Owl Award were Brian Kim, Sunny Hills High School; Emily Brown, Corning Union High School; Celeste Morino, Ripon High School; Beth Swehla, Anderson Valley High School; and Lauren Peterson, King City High School. Each received a $500 donation to support future educational efforts.
Ferreira's passion for agriculture and his commitment to his students have made him an outstanding educator, according to his nominators. They described him as hardworking, dedicated and inspiring. One student nomination read, "When I first met Mr. Ferreira I was not an active member and was only in FFA to get class credits, but in less than a few months Mr. Ferreira showed me the beauty of the FFA organization. He helped me work to become a sectional officer and helped me find my place in this organization. Sometimes I wonder how Mr. Ferreira is able to do all the remarkable things he does for this organization—it is a testimony to his love for and dedication to the FFA."
As the No. 1 insurer of farms and ranches in the United States, Nationwide established the Golden Owl Award with its state partners to shed light on the contributions of California's leading agricultural teachers and provide additional resources to support their programs. In conjunction with the Golden Owl Award, Nationwide has also donated $5,000 to the California FFA Association to further support the personal and professional growth of students, teachers and advisors alike.
For more information, visit goldenowlaward.com.
Nationwide, the Nationwide N and Eagle, and Golden Owl Award are service marks of Nationwide Mutual Insurance Company. © 2023