You can bet on it


More online: Watch this story on California Bountiful TV.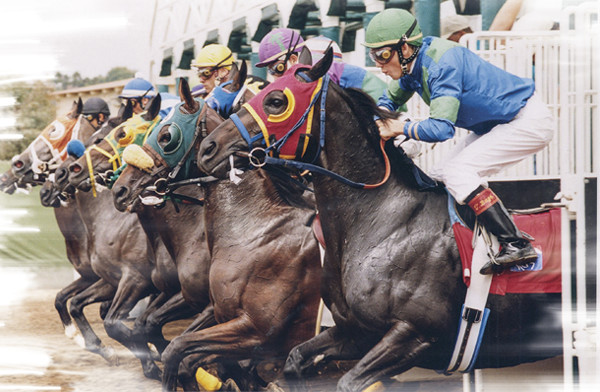 These racehorses do more than thrill patrons of Del Mar Thoroughbred Club near San Diego. Their stable straw is turned into compost at a local farm, which then uses it to grow ingredients enjoyed by fans at the track and diners throughout the region.
The roar of the crowd, the thunder of hooves: Each season, tens of thousands pack the stands to witness the spectacle at the Del Mar Thoroughbred Club. Some come for the thrill of the race, some to win big. Others seek a taste of the good life.
"We have a very discerning clientele," said Barry Schneider, executive chef of Premier Food Services, which operates all 15 food service outlets at the Del Mar Fairgrounds, home of the Thoroughbred Club.
In addition to the racing season, Del Mar hosts more than 400 events a year, at which Schneider serves hundreds of thousands of meals ranging from casual to fine dining. But few of those diners are likely aware of the unique partnership that results in some locally grown ingredients getting their start right there at the racetrack, before making the journey full circle to the meals of racing fans.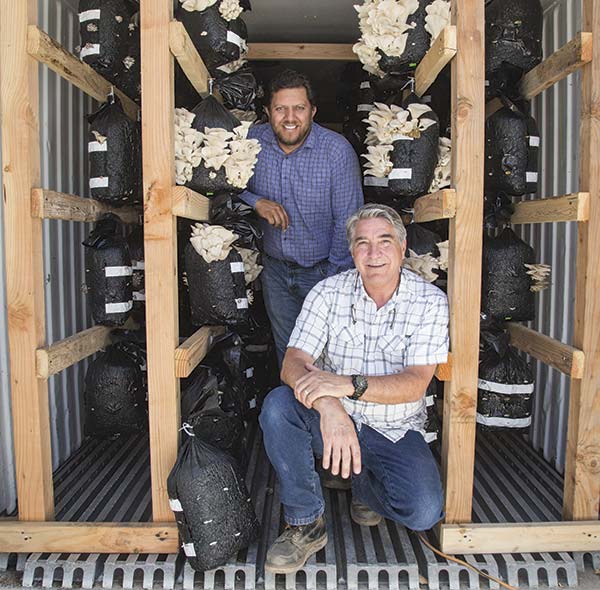 Roberto Ramirez, left, and Gary Crouch, owners of Mountain Meadow Mushrooms, divert the used straw from landfills by composting it for use on their Escondido farm.
An idea to run with
It all started more than 25 years ago. Gary Crouch learned from a newspaper article that the Thoroughbred Club spent hundreds of thousands of dollars each season in dump fees to dispose of used bedding straw from the horse stables.
Crouch, a mushroom farmer, immediately recognized a golden opportunity to form a win-win relationship. He could recycle the straw into the compost his mushrooms need to grow, saving Del Mar money and diverting thousands of tons of waste from the landfill. It wasn't hard to sell the track on the idea.
"We're just tickled pink that we've got a way to get rid of it and he can use it for a beneficial cause," said Timothy Read, vice president of operations for Del Mar Thoroughbred Club.
So each morning during racing season ever since, the routine has been the same: While trainers begin exercising the 2,000 racehorses stabled at Del Mar, workers clean out the stables. The used straw is loaded into double tractor-trailers and delivered to Crouch's farm, Mountain Meadow Mushrooms, in Escondido.
Crouch receives about 10 full loads a day, every day of the season. That amounts to about 8,000 tons of waste diverted from the landfill each year, enough straw for Crouch to sustain his mushroom-growing operations for most of the year.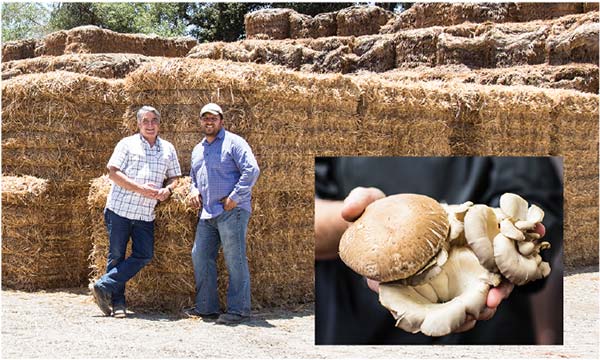 Crouch and Ramirez accept all the racetrack's used straw for the season, diverting 8,000 tons of waste from the landfill. Most of the mushrooms they grow, such as the oyster and portobello varieties above, are eaten locally, including some by fans at the racetrack.
You want to do what?
After the straw is delivered, the work of growing mushrooms begins. The secret to mushroom farming lies in learning the right recipe for making productive substrate, the composted materials that host the growing fungi.
"If you don't compost correctly, then you don't grow mushrooms," Crouch said.
It's something he and his late father, Bob Crouch, knew nothing about when they started the venture 33 years ago. His father, a retired aerospace engineer, called him one day with a scheme: He had seen an ad for a mushroom farm for sale and wanted to buy it.
"He was one of these guys that would sit at a restaurant with a napkin and a pen, just penciling out stuff," Gary Crouch said. "That was what he liked to do."
Bob Crouch bought Mountain Meadow Mushrooms and convinced his son, who had a construction business, to sell one of his houses for seed money. The engineer and the builder then set out to learn how to be farmers.
"We read some books, we tried to get educated, we went out and visited other farms," Crouch said. "We put every dime back into the farm."
Over the years, the Crouches grew the business from one with four or five employees that produced 200 pounds of mushrooms a week to a bustling operation with 100 employees harvesting 120,000 pounds weekly.
Learning to create great compost for growing the mushrooms as efficiently as possible has been a big part of their success. It took them years, maybe even decades, to get it right, Crouch said. He gives much of the credit to Roberto Ramirez, who has been Crouch's business partner for about the past 10 years, ever since Crouch's father retired.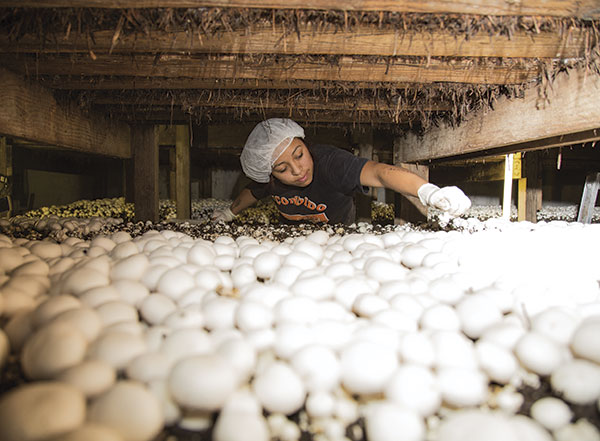 Farm employee Eulalia Pedro harvests white button mushrooms from growing trays of composted straw.
The magic of mushroom farming
The compost's main ingredient is straw from Del Mar, which, contrary to popular belief, contains very little horse manure, Crouch said. To it, they add almond shells, cottonseed hulls and meal, and water. For 17 to 20 days, they turn the pile of compost, inject it with air, adjust moisture and measure the temperature, to achieve the right conditions to break the materials down into the nitrogen-rich, low-ammonia substrate mushrooms love to grow in.
"One would say there's sort of a black art to this whole process," Crouch said. "There's a science, and then there's the art of just knowing what's right. It's that feel of being able to grab hold of the compost, smell it."
Once the substrate is ready, it's mixed with mycelium spawn—a kind of mushroom "seed"—and packed into growing trays in special climate-controlled rooms. Between 26 and 35 days later, the farm can begin harvesting the fruiting bodies—the edible part of the fungus that grows aboveground—of its white button, cremini, portobello, oyster and other specialty mushrooms.
After harvest, Mountain Meadow sterilizes the compost and piles it out front for community members to use in their gardens, free of charge. Crouch even sends bags of it to school and community gardens. He said he likes the idea of giving back to his neighbors. Sometimes, they'll bring him vegetables they've grown in their backyards with his compost as a thank-you.
"It's just a real rewarding sort of thing," Crouch said. "Farming is one of those kind of businesses you tend to really like. It's neat to watch things grow. And it's neat to be able to see the community enjoy our product."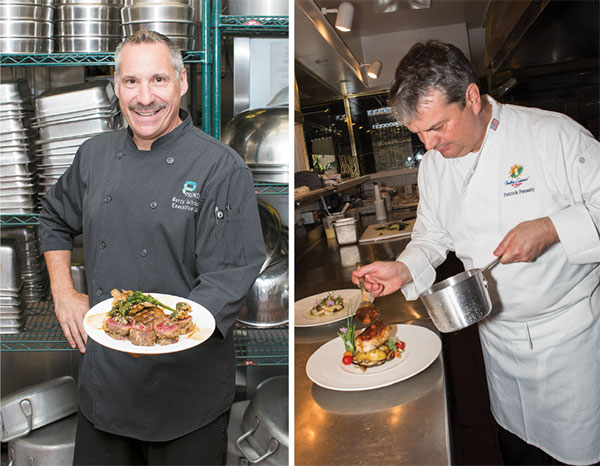 Mushrooms from Mountain Meadow appear on Del Mar menus designed by Executive Chef Barry Schneider, left. Patrick Ponsaty, right, uses the mushrooms extensively in his French fine-dining restaurants.
The local flavor
Crouch's is the only remaining mushroom farm of the 13 in Southern California when he first started, and the majority of his product stays in the region. Order mushrooms in San Diego, and Crouch says there's a 95 percent chance he grew them.
"Everybody here is into a local, fresh kind of scene, and we're it," Crouch said.
Master French Chef Patrick Ponsaty is one of those restaurateurs committed to using local produce. He's the corporate chef for Grand Restaurant Group, which includes the upscale local eateries Bellamy's and Ponsaty's. His kitchens highlight Crouch's signature product in dishes such as pickled beech mushrooms with golden balsamic and herbs, mushroom pâté or raw trumpet mushroom carpaccio. He especially enjoyed working with a specialty variety the farm occasionally grows, the blazei, or almond portobello. Ponsaty braised the mushrooms with veal sweetbreads and vegetables.
"The flavor was like something I never tasted before, like a light almond flavor, and it was amazing," he said. "Because of the flavor, I had an idea to add some vanilla, too. It was incredible."
And of course, some of Crouch's mushrooms also end up right back where they started, at the Del Mar racetrack. Chef Schneider serves them in cream of mushroom soup, made-to-order omelet stations, mushroom sliders and daily specials such as mushroom-stuffed beef roulade.
"As chefs, I feel it's always been our responsibility to work as closely and try and partner up with as many of our local vendors as we can," Schneider said.
Ask those involved, and the benefits of the partnership between Del Mar and Mountain Meadow Mushrooms are clear: It's helped the planet, been good for business and provided patrons with a fresh, locally grown ingredient they can enjoy trackside.
It's a winning combination.
Mad for mushrooms
Mushrooms have long been prized foods in Asia and Europe, while Americans have traditionally had a more modest appetite for fungi. But that trend has been steadily changing. Per-capita mushroom consumption more than quadrupled in the U.S. between 1965 and the 2000s.
Mushroom farmer Gary Crouch has noticed a particularly sharp spike in demand for his product recently, perhaps due to an increased interest in healthy eating.
"Within the last seven to 10 years, they've really gone berserk," he said.
Fungi do indeed have a lot to offer in the way of nutrition, not to mention their culinary qualities:
Mushrooms provide B vitamins, vitamin D and potassium.
Long valued in traditional medicine, certain types of mushrooms are being investigated in modern medical science for potential immune system benefits and cancer-fighting properties. 
In a kingdom all their own, fungi are actually more biologically similar to animals than plants. This lends them a toothsome texture and savory umami flavor that makes them a satisfying choice for meatless meals or an earthy complement to meats.
The Mushroom Council suggests trying a blend of ground meat and finely chopped mushrooms for lighter yet flavor-packed burgers, pasta sauces, tacos and meatloaf.