Try duck for dinner

November/December 2023 California Bountiful magazine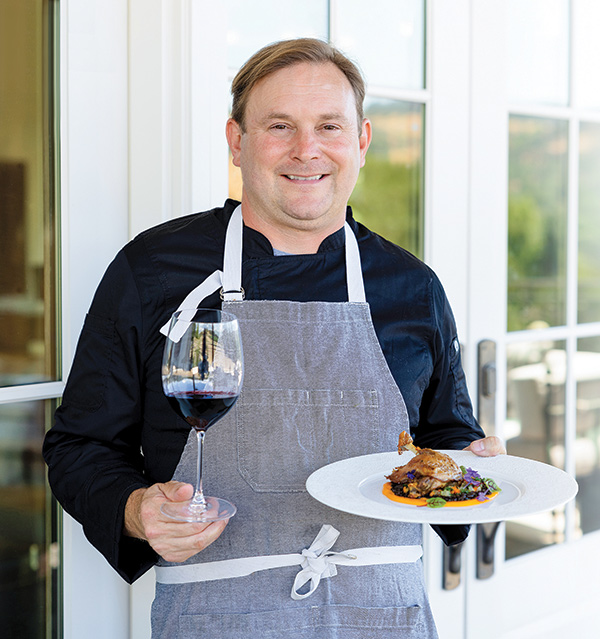 Flavorful poultry is versatile and easy to cook
Story by Linda DuBois
Photos by Paige Green
When Jackson Family Wines chef Justin Wangler prepares meals or food-and-wine pairings at company wineries, he often serves duck—and enjoys witnessing the guests' reactions.
"They're always amazed by the flavor," he says.
"A lot of people think they don't like duck because they've only tasted the wild ones that are gamey and tough. But when you have farm-raised duck, it's just so much milder in flavor and much more tender. It's a wonderful, meaty flavor."
People also assume duck is full of fat, but the thick layer of fat next to the skin can easily be cooked off, he says, adding that a properly cooked breast is lean meat.
Something else that surprises folks: Although duck is officially considered white meat by the U.S. Department of Agriculture, the red color—and often the flavor—more closely resembles steak than other poultry.
The misconceptions could be partly because Americans consume only about 1/3 pound of duck per capita annually, compared to 68 pounds of chicken, according to the USDA.
At the three wineries where Wangler cooks—Vérité near Healdsburg, Cardinale near Napa and Lokoya near St. Helena—he prepares duck in several ways. He pan-cooks breast, slow-cooks legs and thighs in fat to make confit, makes a pâté and a duck-liver mousse, and uses duck sausage to make gumbo.
"Duck is pretty versatile. It can take lots of different flavors in different directions," he says.
For this reason, his choice of wine to pair with duck always depends on how it's cooked. "At Vérité, we're mostly pairing it with red wine, usually cabernet, merlot or cabernet franc, but sometimes I'll do it with riesling."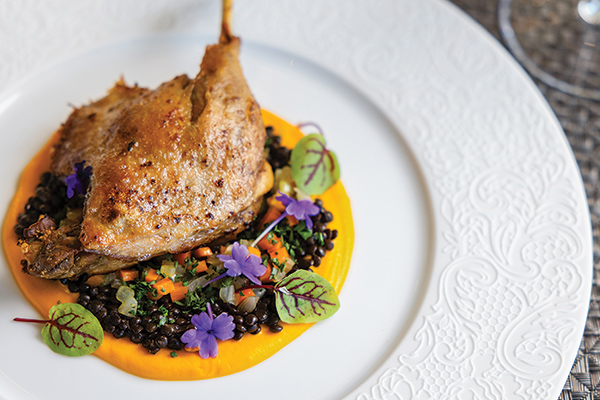 Simple to cook
Wangler encourages anyone who has never cooked duck to give it a try.
"Duck is honestly one of the easiest things to cook," he says, adding even novice cooks could easily handle pan-cooking a breast to medium-rare.
"Most of the time, I'll take a breast and put salt on the skin and put it fat-side down in a cast iron pan and cook it on low heat for 10 to 12 minutes and just let the fat render out and get crispy. Then I flip it over and cook it for about three more minutes, then let it rest for about three minutes and slice it. It comes out so moist and flavorful."
Over the years, he's learned duck is best when aged a bit. "At my house or at work, I put it on a paper towel and leave it uncovered in the fridge for seven or eight days, changing the paper towels each day. The moisture comes out and the skin starts to dry and then when you cook it, it has this incredible flavor and crisps up a lot nicer."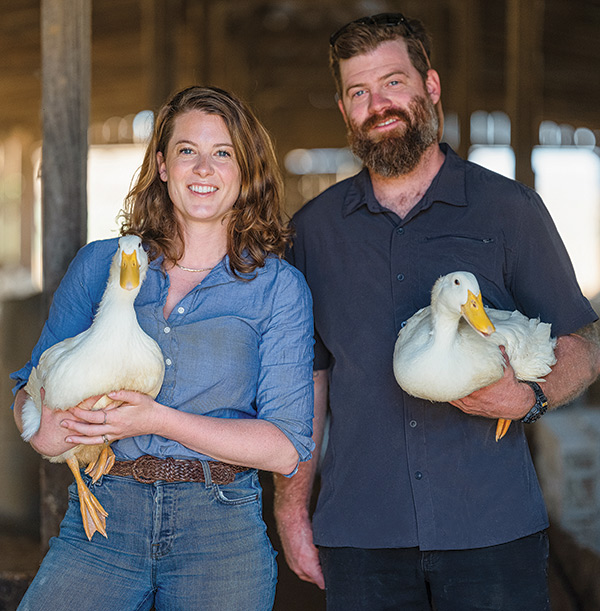 Family-raised Liberty Ducks
For the past 23 years, all of Wangler's duck meat has come from a family-run farm that raises about 20,000 of the birds in Sonoma County's Petaluma.
Fourth-generation duck farmer Jim Reichardt founded Sonoma County Poultry and its Liberty Ducks brand in 1992 to meet restaurant chefs' requests for a meatier bird like the ones found in European cuisine. The farm raises a strain of Pekin duck, developed in Denmark, that is suited for slow, more relaxed rearing.
The market age is about 9 weeks, as opposed to as early as 6 weeks for some other commercially grown ducks, giving time for the desired flavor and texture to develop, explains Jim's daughter, Jennifer Reichardt. She co-manages the business with her dad and her brother, Eric Reichardt, with assistance from a small staff that helps with the ranch work, packing orders and deliveries.
The farm gets day-old ducklings from a hatchery once a week and then raises them in open-air buildings.
"They have about 5 to 10 square feet per bird, giving them lots of room to run around," she says, noting that the region's temperate climate is ideal for raising ducks this way year-round.
Because ducks take on the flavor of what they eat, the Reichardts choose their feed carefully, giving the birds a mix of corn, other grains and a little protein purchased from a local feed store.
Reichardt says, in general, keeping the ducks happy and healthy isn't too difficult, but they have to work hard to keep the buildings secure to protect the ducklings from predators such as foxes, feral cats, skunks and raccoons.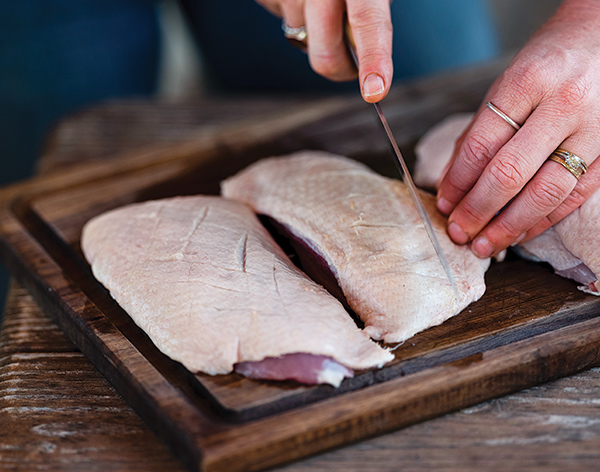 A pandemic pivot
The business side of the farm took a sharp turn in the spring of 2020. Until then, 99% of the farm's sales were to restaurants and butchers. But when sales plummeted due to COVID-19, the Reichardts began selling meat directly to home chefs through the company website and kept their employees busy with home deliveries and shipments.
"One of the reasons why this was successful is because a lot of our restaurants had decided to put our name on the menu. … So, people were like, 'Oh, Liberty Ducks, I recognize them'—but then they didn't know how to cook duck," Reichardt says.
This prompted Reichardt, with help from a small team, to write "The Whole Duck," a cookbook with family recipes and contributions from 54 chefs (see the book review).
"We wanted to make sure that a lot of different cuisines were represented. I think people think of duck in French or Chinese cuisine, but that's kind of limiting. We really wanted to demonstrate that it's much more versatile than that," she says.
So, the team requested recipes from a wide variety of chefs—those the farm had worked with and some it hadn't. Reichardt also asked customers through social media what they wanted in the book.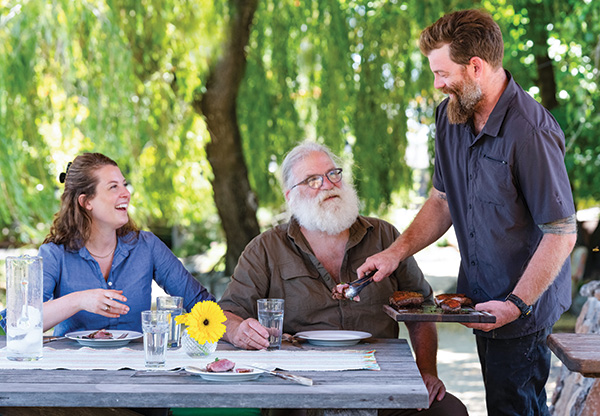 After evaluating all the input and testing the recipes, the team came up with a book with more than 80 dishes and covering everything from the basics, such as butchering, making stock and rendering fat, to pairing dishes with the ideal drink. Jennifer Reichardt is also a winemaker.
The cookbook was released in October 2022, just in time to mark the farm's 30th anniversary that December.
Even as the farm is back to selling duck to restaurants, household demand for online sales continues and remains a significant source of income, Reichardt says. In fact, as the holiday season nears, the family has to limit how much they sell each week so they can reserve enough whole ducks to meet the increased demand in November and December.
Reichardt says she appreciates the retail side of the business for another reason. It has brought more opportunities to interact with customers, in person and through phone calls, emails and social media. "It's been super fun to have that personal connection with them," she says.
Today, Liberty Ducks go to restaurants and individuals across the United States and more than 15 California grocery stores and butcher shops.
Duck and wine make a great pair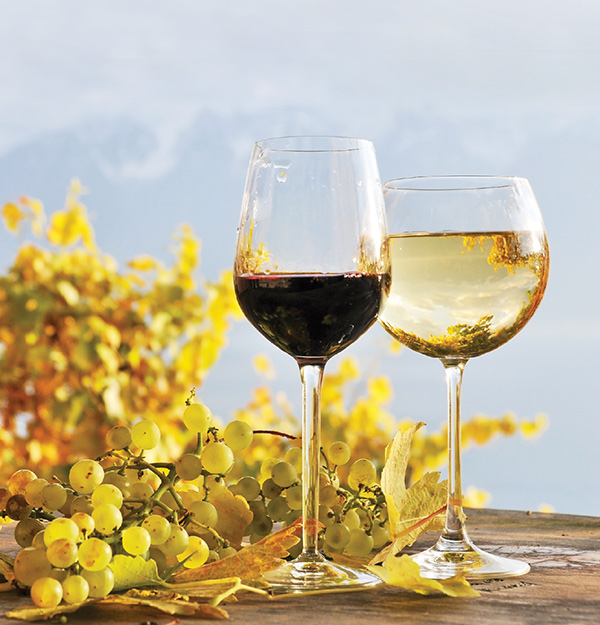 Jennifer Reichardt describes duck as "a nice in-the-middle" meat—more flavorful than chicken but lighter than steak—that blends well with a variety of cuisines and wines.
A duck farmer for Liberty Ducks in Sonoma County, she's also been a winemaker since 2011 and started her own brand in 2016. "I named it Raft Wines, with raft meaning a group of waterfowl," she says.
Passionate about cooking as well, Reichardt combines her areas of expertise at food-and-wine pairings and in her cookbook, "The Whole Duck," in which she suggests wines for many of the recipes based on the style of cuisine and the flavors of the ingredients.
A few examples:
For pan-seared duck breasts with salsa verde, she recommends a rich, full-bodied chardonnay that "brings out the herbal zest of the salsa verde and stands up to the texture of the duck breast."
The flavor-packed Spanish duck chorizo calls for a light, crisp red wine, such as a mencía, or the pink sparkling cava rosado.
Duck ham, however, needs "something with a little sweetness but still with some acidity, like chenin blanc to balance the saltiness."
For the very basics, such as a plain roasted breast or confit, she says any red wine works well. "Traditionally, pinot noir, syrah or a lighter zinfandel are all easy to pair with."