Little pops of color

September/October 2023 California Bountiful magazine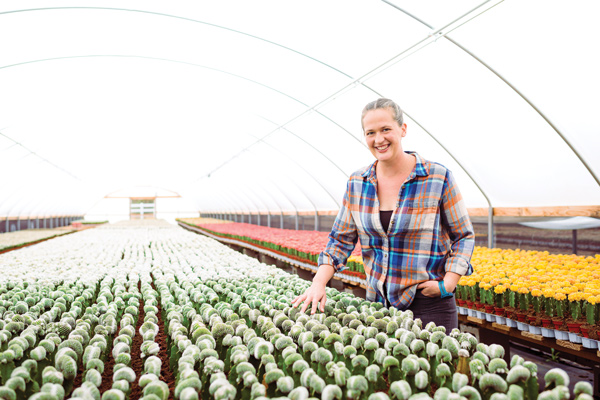 San Diego County nursery grows succulents for home décor
Story by Christine Souza
Photos by Kate Howard
People in search of natural ways to brighten up a space are opting for cacti and other succulents, which come in a few thousand unique and colorful varieties that require little water or attention.
In greenhouses warmed by the Southern California sun to color the plants, Alexandra "Alex" Jeffers, general manager of San Diego County-based Sorensen Greenhouses, says people enjoy succulents because they are different from other potted plants.
"They add such a cheerful, bright color. What's nice about succulents is they are bright colors all year-round," says Jeffers, whose family-run nursery grows a few million small potted succulents annually. "The little plants are mostly for decoration. My desk is covered with them and they're all in my windowsill in front of my desk."
Any plant that retains water is a succulent, she says, and cacti, with their needle-like spines, are a subcategory of these drought-tolerant plants that store water to survive in arid conditions.
"There's fuzzy ones, there's ones that look like they have hair, there's really spiny ones, and they can be short and round and flat to tall and gangly," says Jeffers, whose succulents are sold in petite pots of 4 inches or smaller to retailers such as Home Depot, Safeway, Walgreens and Trader Joe's. "They come in every color imaginable. There's brilliant blues and reds that are absolutely gorgeous, pure white and lots of greens and grays, and everything else in between."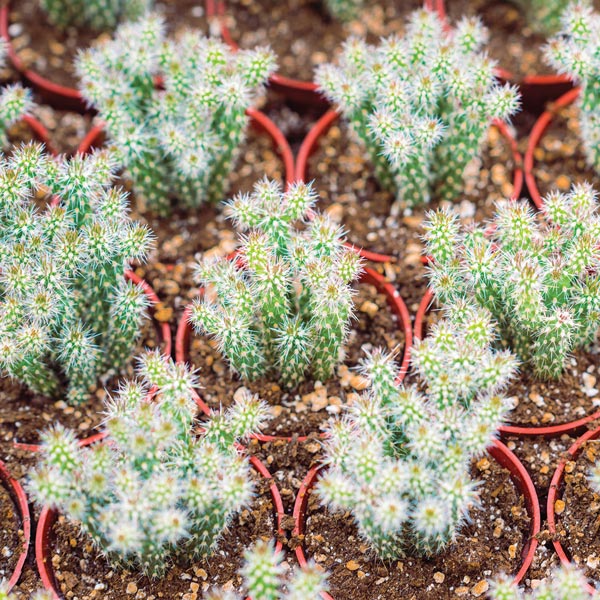 Succulents make a statement
Their drought tolerance is one reason for the rise in popularity of succulents, says Gerardo "Gerry" Spinelli, a horticulture advisor for the University of California Cooperative Extension in San Diego County.
"Cacti and succulents need very little water, and they are also a little bit of a statement," he says. "It's a way for people to say, 'I'm conscientious about the environment.'"
Social media has helped to further boost the popularity of succulents, Spinelli notes.
"The fact that you can take a picture so easily and post it puts a lot of emphasis on the visual aspect of things," he says. "We grow plants because they're beautiful and we grow plants because they improve your environment."
In San Diego County, the category of ornamental nursery plants that includes cacti and other succulents is the No. 1 crop, valued at $488 million or 28% of the county's total agricultural output in 2021. Statewide, growers sold $63 million worth of succulents, according to the U.S. Department of Agriculture.
"Southern California has probably the best growing climate for cacti and succulents in the world," Jeffers says.
The plants receive high heat during the day and benefit from a drop in temperature at night.
"They take in all the energy from the sun during the day, but then they do the photosynthesis process at night when it's cooler, to be more efficient and waste less water," she explains. "They need that drop in temperature to be able to function properly."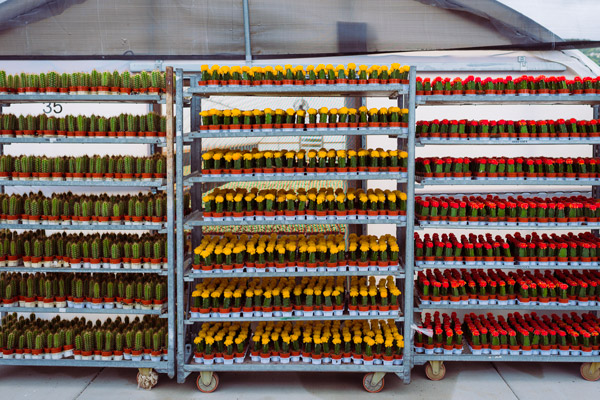 Scouring the globe for seeds
Cacti, Jeffers says, can be found on almost every continent. Sorensen Greenhouses works with a seed supplier in Europe to source seed from varieties native to many regions, including South Africa, North Africa, Spain and Italy.
"We try to grow as many different varieties as we can get our hands on," Jeffers says. "We probably have close to 800 (cacti) varieties that we have access to and probably 200 varieties of (other) succulents, although we don't have them all at the same time."
The echeverias are a round, flower-shaped succulent that Jeffers says are incredibly popular and come in many colors, such as white, blue, pink, green, purple and even red. Her own favorite succulent is the Pink Mouse, which she describes as "a little, low-growing plant that goes hot pink in the winter and bright yellow in the summer."
"There's always something new to collect," she says.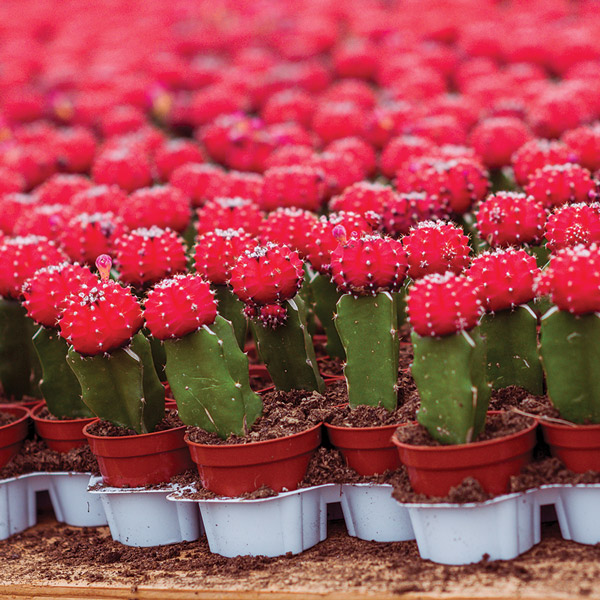 What happens in the greenhouse
Because of the slow-growing nature of the plants, Sorensen Greenhouses operates year-round. Its busy season is from February through June, when plants are packed and shipped. When the season slows in the fall, the nursery plants the next crop.
"Every year, we have a new crop of seedlings," Jeffers says.
The nursery grows most of its cacti from seed, with a few exceptions. Known as the bunny ears cactus, the opuntia microdasys, which grows in segments, is easy to propagate, Jeffers explains. "You can peel individual leaves off, let them dry for a week or two, and then plant them and they'll sprout their own plant."
She and her mother hand-propagate about 10 million to 12 million seeds a year. Cacti seedlings remain in trays for a year before they are transplanted and grow for another year. After two years, the plants are cut at the roots, dried and transplanted to small pots where they remain for a third year before they are ready to sell.
Other succulents, most of which are propagated from plant cuttings, require only four months in the greenhouse.
Although the greenhouses are not temperature-controlled, the nursery controls the amount of light, which affects the temperature inside the greenhouse. "The more sun they get, the more colorful they get," Jeffers says. The greenhouses of haworthia, which resemble miniature aloe plants, and other aloes are kept a little darker.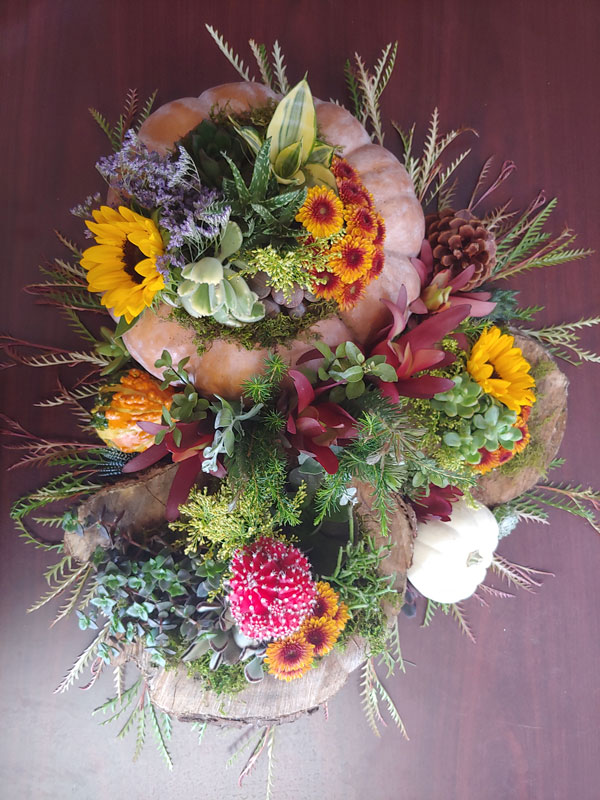 An inexpensive home improvement
A third-generation nursery operator, Jeffers says she does "a little bit of everything," from growing plants to interacting with customers, handling sales, shipping and receiving, and planning for the future.
For a few friends and family members, she provides succulents for events, even weddings. "They come in so many different colors that they work with any venue or any color scheme," Jeffers says, adding a downside is they are heavier than cut flowers.
Jeffers works alongside her parents, Claus and Cleone Sorensen, and brother Christian Sorensen at the nursery, which has 20 acres of greenhouses in Ramona and Valley Center. Sorensen Greenhouses was started by Jeffers' grandfather in Canada in the 1950s. Her parents acquired the cacti and succulent part of the family business after they married and, in 2006, purchased their first San Diego County site.
Considered essential businesses during the COVID-19 closures, nurseries saw increased sales of plants, which Jeffers says was because people at home wanted to make improvements.
"All horticulture did really well that year. People wanted plants," Jeffers says. "My grandpa was working at a nursery during the Great Depression and said people didn't have a lot of money then, but it didn't take a lot to buy a plant and the amount of cheer it brought more than made up for it.
"I think that carried over into COVID as well."
Less is more when caring for a succulent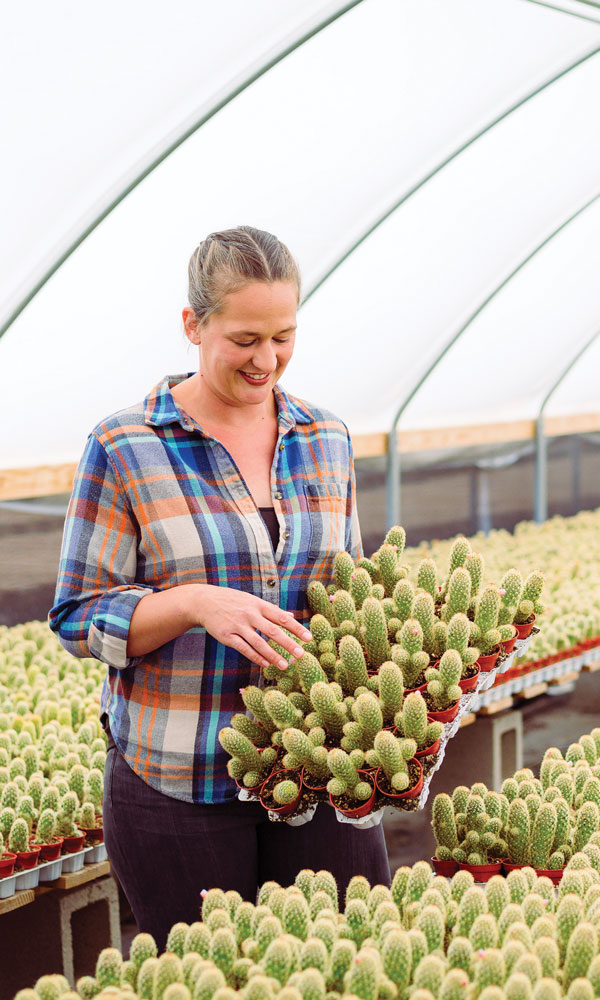 For plant lovers who may not have as green of a thumb, cacti and other succulents require very little attention, although it is important that they receive proper care.
"Less is more, for the most part," says third-generation nursery operator Alexandra "Alex" Jeffers. "Ignoring them is better than over-loving them."
Here are her tips.
• Water: Cacti and other succulents look a little shriveled and sad when it's time to add water. If overwatered and there is not enough sunlight, Jeffers says, "the plant starts stretching, looking for more sunlight and you get wild, less-than-pretty-looking plants."
• Sunlight: With a few exceptions, bright light is a good friend to most succulents. If growing indoors, for adequate sunlight, place the plants in full sun, such as near a window. Water a little more often in warm climates and much less in cooler climates.
• Soil: Use a basic cactus and succulent potting soil found at the hardware store or nursery. This mix features extra drainage to prevent the plant from absorbing more water than it needs.