Almond, anchovy and fennel toasts
Joanne Weir
Cooking teacher, author and chef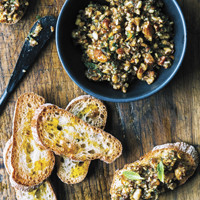 This recipe comes from a winemaker in Provence who hosted Joanne Weir and her cooking students for dinner under the stars, among the vines.

Ingredients
3/4 cup almonds or walnuts
1 tsp. fennel seeds
6 anchovy fillets, soaked in cold water for 5 minutes and patted dry
8 mint sprigs, plus small leaves
for garnish
1 tsp. grated orange zest
1/4 cup freshly squeezed orange juice
1/4 cup extra virgin olive oil, or
as needed
Kosher salt
1/2 baguette, thinly sliced and toasted
Directions
In a small frying pan, lightly toast nuts over medium heat, shaking pan occasionally, until they are fragrant and have taken on a little color, 2 to 3 minutes. Pour onto a plate and let cool.
Return pan to medium heat. Add fennel seeds and toss and stir until light golden and fragrant, about 1 minute. Transfer to a spice grinder, let cool, then grind coarsely.
In a food processor, combine nuts, fennel seeds, anchovies, mint and orange zest and juice, and pulse until mixture is chunky. With the food processor running, slowly add oil and continue to process until well-mixed and coarse-textured. If the mixture is too thick to spread, add a little more oil. Transfer to a bowl and season with salt.
Spread paste onto baguette slices and arrange on a platter. Garnish with mint leaves.
Serves 10
Adapted and reprinted with permission from "Kitchen Gypsy," by Joanne Weir, copyright 2015, published by Oxmoor House. Photo by Thomas J. Story.