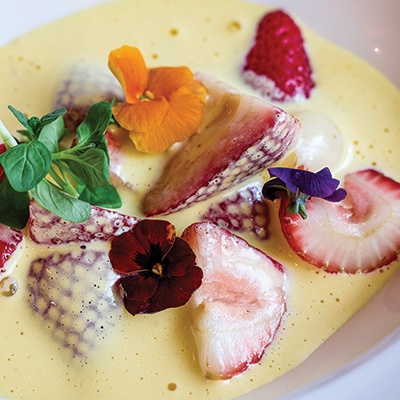 This dish, which chef Dane Blom calls his "favorite dessert of all time," is an easy-to-make showstopper. At home, the chef often serves it over pound cake.

Ingredients
Sabayon
6 egg yolks
1/2 cup sugar
2 tbsp. marsala
Strawberries
15 strawberries, stems removed and halved
2 tbsp. sugar
Instructions
For sabayon: Place egg yolks over double boiler. Whisk vigorously, pulling yolks on and off heat and being careful not to scramble. Once doubled in volume, add sugar and keep whisking until pale yellow in color. Add marsala and pull off heat. Store someplace warm.
To serve: Toss strawberries in sugar and add to a bowl. Top with sabayon and serve.
Serves 3 to 4
Photo: © 2023 Fred Greaves