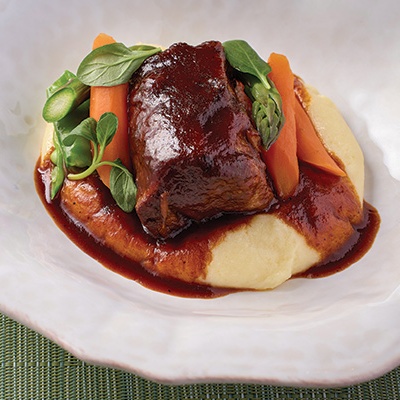 Chef Dane Blom says this Dixon lamb daube with spring vegetables, local polenta and chimichurri is an easy way for home cooks to impress friends. "It's just a really soul-satisfying dish that's not too heavy, but it's still able to feed a crowd of people pretty easily."

Ingredients
Lamb daube
3 lb. lamb shoulder
Salt, to taste
Grapeseed oil, to taste
1 carrot, large dice
1 rib of celery, large dice
1 yellow onion, large dice
3 cloves garlic, smashed
1 (750-ml.) bottle red wine
2 quarts chicken stock
Polenta
4 cups water
1 cup course ground polenta
2 tbsp. mascarpone
1 tbsp. butter
Chimichurri
1/4 cup parsley
1/4 cup cilantro
1 bunch oregano
1 shallot, fine dice
1 red Fresno chili, fine dice
1/3 cup olive oil
1/3 cup red wine vinegar
Spring vegetables
2 tbsp. butter
2 tbsp. chicken stock
1/4 cup English peas, blanched
6 baby carrots, blanched
6 spears asparagus, blanched
Instructions
For lamb: Season lamb with salt. Heat a pan with oil. Once smoking, add lamb and brown all the way around. Add carrots, celery, onion and garlic. Cook until golden brown. Deglaze with wine. Reduce by half. Add stock and bring to a boil. Put in a 375-degree oven until lamb is tender, about 90 minutes. Remove from oven and allow to rest. Once rested, remove lamb and set aside. Start reducing braising liquid. Once reduced by half and starting to thicken, strain and add to a new pan. Add lamb back in and start to glaze.
For polenta: Bring water to a boil and season with salt. Whisk in polenta. Turn heat down and allow to cook for 20 to 30 minutes, continuously stirring. Add mascarpone and butter to cream out. Set aside, covered, until ready to use.
For chimichurri: Chop parsley, cilantro and oregano together until finely minced. Add to a bowl. Add shallot, chili, olive oil and vinegar to the bowl as well. Season to taste with salt.
For vegetables: Add butter and stock to a pan. Bring to a simmer and allow to emulsify. Add vegetables to glaze.
To assemble: Place a spoonful of polenta in a bowl. Add glazed lamb on top. Place vegetables on top of that and dollop chimichurri on top.
Serves 4
Photo: © 2023 Fred Greaves