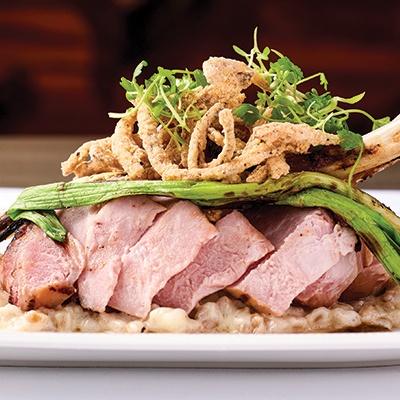 Instead of brining a whole ham, how about brining a few pork chops? The result: "ham chops" perfect for headlining a spring menu!

Ingredients
Ham chop
1/2 gallon water
1 1/2 cups brown sugar
1/2 cup kosher salt
3 tsp. pink salt
2 double-cut pork chops
2 spring onions, tops and bottoms trimmed
Farro
1 cup farro
Grapeseed oil, to taste
1 yellow onion, small dice
3 cloves garlic, sliced
1 cup cream
1/2 cup water
1/2 cup Parmesan
Tobacco onions
1 large yellow onion
1 cup buttermilk
1 cup flour
1 cup cornstarch
1 tbsp. Old Bay Seasoning
1 tbsp. paprika
Salt, to taste
Instructions
For ham chop: Add water, brown sugar and salts to a container. Stir vigorously with whisk until dissolved. Add chops and let sit for 4 to 6 hours. After brined, hot smoke at 225 degrees until cooked through, about 3 hours. Let rest until ready to grill.
For farro: Add farro to a pan with oil and toast. Once toasted, add onion and garlic and cook until soft. Add cream and water and turn heat on low. Cover and cook until tender. Add cheese to thicken.
For tobacco onions: Slice onion on mandolin and soak in buttermilk. Mix all dry ingredients together. Strain onions from buttermilk and dredge in flour mix. Fry in 350-degree oil until golden brown. Drain on paper towel and season with salt.
To assemble: Grill pork chop for color. Set aside. Add spring onions on grill to cook through (some char is OK). Place farro on a plate. Slice ham chop and lay on farro. Place spring onion over ham chop and top with tobacco onions.
Serves 2
Photo: © 2023 Fred Greaves