Ling cod and shellfish stew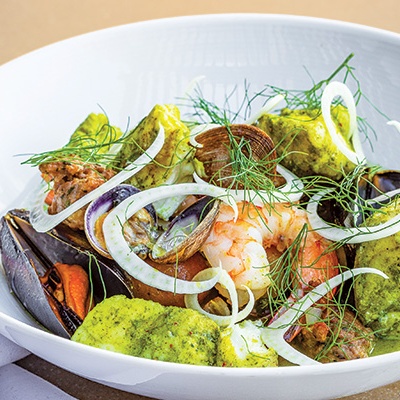 This hearty stew is loaded with the flavors of the ocean—ling cod, clams, mussels and shrimp. Serve with grilled bread and lemon wedges.

Ingredients
2 lb. boneless, skinless ling cod fillet
1 lb. Manila clams
1 lb. Mediterranean mussels
1/2 bunch parsley, picked
1/2 bunch cilantro, picked
1/2 bunch dill, picked
2 sprigs oregano, picked
1 garlic clove
Zest and juice of 1 lemon
1 cup extra virgin olive oil
Salt and pepper, to taste
1/2 lb. loose fennel sausage
1 shallot, cut into rings
4 garlic cloves, minced
1 Thai chile, sliced
1/4 cup white wine
2 cups chicken stock
3 red potatoes, boiled and cut into chunks
1 lb. medium shrimp, peeled and deveined
1 tsp. chili flakes
1 baby fennel bulb
Instructions
Cut cod into 4 large pieces. Wash clams and mussels, removing any mussel beard. Set cod and shellfish aside.
In a blender, add herbs, garlic clove, lemon zest and juice, and olive oil. Blend until smooth. Add more oil if desired and season to taste. Mixture should run off a spoon. Set aside.
In a large saucepan, brown sausage. When sausage is cooked, add shallot, minced garlic and Thai chile. Sweat aromatics. Add shellfish to pan. Deglaze with wine and let wine cook off. Add chicken stock and cod to pot and cover while simmering. Add potatoes, then add shrimp during the last 2 to 4 minutes of cooking. Cook stew until all shellfish have opened and cod is cooked through. Season to taste with chili flakes. Spoon into a serving bowl and top generously with herb mixture. Garnish with fennel fronds and shaved fennel.
Serves 4
Photo: © 2022 Lori Eanes