Pork adobo bahn mi sandwich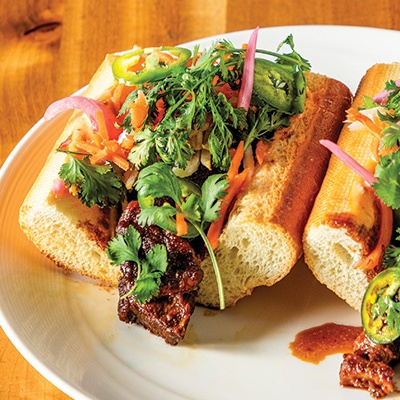 There are plenty of delicious versions of a bahn mi sandwich, but which one is best? Try this and you may have your answer!

Ingredients
Pork adobo
2 lb. pork shoulder, cubed
1 tbsp. vegetable oil
1/2 onion
5 cloves garlic
1 knob ginger, cut into quarters
2 bay leaves
1 tbsp. black pepper
2 cups soy sauce
1 cup water
1/2 cup apple cider vinegar
1/2 cup brown sugar
Sandwich
1/4 cup shredded carrot
1/4 cup shredded daikon
1/4 red onion, julienne
1 jalapeño,
cut into thin rings
1/2 bunch cilantro, picked
1/4 cup rice wine vinegar
1/4 cup grapeseed oil
2 Vietnamese-style deli rolls
Mayonnaise, to taste
Instructions
Brown pork in a saucepan on high heat with oil. Add 1/2 onion, garlic cloves, ginger, bay leaves and pepper. Sweat aromatics. Add soy sauce, water, apple cider vinegar and brown sugar. Bring to a boil, then lower to simmer. Cook on low for 90 minutes or until pork is fork tender. Discard garlic, ginger and bay leaves.
In a bowl, mix carrot, daikon, red onion, jalapeño and cilantro with rice wine vinegar and grapeseed oil. Slaw should be lightly dressed.
Cut rolls lengthwise but not all the way through. Spread mayonnaise on cut sides of rolls. Using a slotted spoon, add pork to roll. Top with Vietnamese slaw.
Serves 2
Photo: © 2022 Lori Eanes