Savory grains with poached egg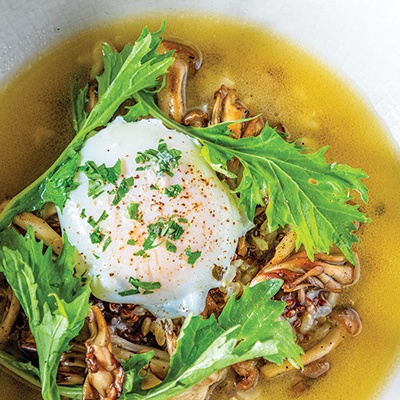 Shimeji mushrooms have a nutty, umami flavor and a slightly crunchy texture. Here, they're combined with whole grains, poached eggs and a savory broth to create a light but satisfying meal.

Ingredients
1 cup whole grain mix
(such as farro, quinoa and brown rice mixture)
2 cups water
1 sprig thyme
2 garlic cloves
2 bay leaves
Salt and pepper, to taste
3 eggs
White vinegar
1 pint chicken stock
2 tbsp. smoked soy sauce
4 oz. Parmesan cheese rind
1 (2-oz.) package shimeji mushrooms
1 cup mizuna leaves
Instructions
Add grains, water, thyme, garlic and bay leaves to a saucepan. Bring to a boil, turn down to simmer and cover for 20 minutes or until liquid has been absorbed by grains, stirring occasionally. Turn off heat and let sit another 5 to 10 minutes. Season with salt and pepper and fluff with a fork before serving.
Poach eggs in a pot of simmering salted water and a cap full of white vinegar. Tip: Crack each egg into a small teacup and introduce the egg into the water by slowly dipping the cup into the water and allowing water to fill the cup. Let hot water set the egg in the cup and then pour the semi-set egg into the water. Cook until white is set and yolk is still runny, about 3 minutes.
Add chicken stock, smoked soy sauce and cheese rinds to a saucepan. Simmer for 30 minutes. Remove rind and add mushrooms (root removed) to liquid. Let mushrooms cook for 2 to 3 minutes. Spoon grains into a bowl to form a mound with space around. Make an indentation in the middle of the mound and place a poached egg in the indentation. Ladle 2 to 3 ounces of hot stock/rind mixture around mound along with mushrooms. Garnish with mizuna leaves on the grains, leaving the egg exposed.
Serves 3
Photo: © 2022 Lori Eanes