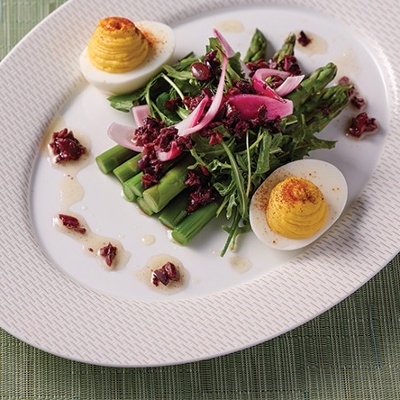 After winter's muted tones, chef Dane Blom says he enjoys the burst of color spring brings to his menus. Here's a delicious example.

Ingredients
Pickled red onions
1 cup white vinegar
1 cup water
2 tbsp. sugar
2 tsp. salt
1 tbsp. toasted coriander
2 red onions, cut into petals
1 bunch dill
Broken olive vinaigrette
1/4 cup chopped Kalamata olives
3 tbsp. olive juice
1/3 cup sherry vinegar
1/3 cup olive oil
Deviled eggs
6 large eggs
2 tbsp. mayonnaise
1 tbsp. Dijon
Salad
8 spears asparagus, blanched
1/4 cup arugula
1/4 oz. picked parsley
1/4 oz. picked dill
1/4 oz. chive batons
Instructions
For onions: Bring vinegar, water, sugar and salt to a boil. Toast coriander on the side in a pan to release oils. Add to pickling liquid. Once everything is dissolved and heat is shut off, add onions and dill. Let cool in fridge. Can be made in advance (the longer it sits, the better it becomes).
For vinaigrette: Add everything to a bowl and mix. Check for salt and adjust if necessary.
For eggs: Bring water to a boil. Add room-temperature eggs into boiling water and set timer for 12 minutes. When timer goes off, add eggs to ice bath. Once cool, peel eggs. Split in half and scoop out yolks. Clean whites in a bowl of water and place on a damp towel until ready to use. Place yolks in food processor with mayonnaise and Dijon. Process until smooth. Season to taste with salt and place filling in a piping bag. Set aside until ready to use, then pipe yolk mixture into halves.
For salad: Lay asparagus on a plate side by side. Mix arugula with picked herbs and pickled onion and lay on top of asparagus. Drizzle with vinaigrette. Add a half of a deviled egg on each side of salad.
Serves 2
Photo: © 2023 Fred Greaves