Cider-glazed Brussels sprouts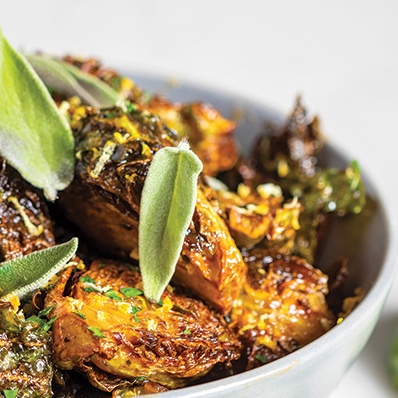 Chiles and bay leaves add a savory note to the tangy-sweet glaze used here to coat tender Brussels sprouts. The versatile side dish fits well at occasions from casual dinners to holiday feasts.

Ingredients
1 quart fresh apple cider
1/4 cup apple cider vinegar
2 dried chiles
2 bay leaves
2 lb. Brussels sprouts
Zest of 1 lemon
1 sprig sage leaves, picked
Instructions
For glaze, combine cider, vinegar, chiles and bay leaves in a saucepan. Bring to a boil, turn down to simmer and reduce liquid until a syrupy consistency. Strain mixture and set aside.
Cut off small root end of Brussels sprouts and then cut in half lengthwise. Cook sprouts flat side down in a large sauté pan on medium to high heat. Once flat side is browned, toss in pan and let cook until tender but not soft. Turn off heat, add 2 oz. glaze to pan and toss thoroughly. Spoon sprouts into a bowl and top with lemon zest and torn sage leaves.
Serves 4 to 6
Photo: © 2022 Lori Eanes