Delicata squash and chicory salad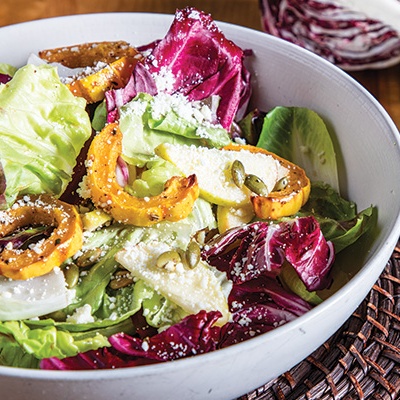 The delicata is named for its delicate, edible skin, which provides a nutritional bonus to this gorgeous salad. Feeling adventurous? Add a little cinnamon, cayenne pepper and chili powder.

Ingredients
Apple cider vinaigrette
1 cup extra virgin olive oil,
plus additional for roasting squash
1/4 cup apple cider vinegar
1 tbsp. agave syrup or honey
1 tbsp. Dijon mustard
Salt and pepper, to taste
Salad
2 delicata squash
4 chicory heads
1 pomegranate
1/2 cup roasted pepitas
2 oz. queso cotija crumbles
Instructions
For vinaigrette: Blend together olive oil, vinegar, agave syrup, mustard, salt and pepper. Set aside.
For salad: Rinse squash, chicory and pomegranate. Cut squash lengthwise, remove seeds with a spoon and scrape out excess fibrous flesh. Cut across halves to form half-moons, approximately 1/4 inch wide. Spread on a lined baking sheet in a single layer. Season with salt, pepper and olive oil. Roast in a 400-degree oven for 8 to 10 minutes or until soft and golden brown along edges. Remove from oven and cool.
Cut root from chicory and separate leaves into a large salad bowl. Cut pomegranate in half, remove edible seeds and separate from pith. Sprinkle desired amount of pomegranate seeds, pepitas and queso over chicories and toss with vinaigrette. Top with squash. Garnish with more pomegranate seeds, pepitas and queso.
Serves 4 to 6
Photo: © 2022 Lori Eanes