Fresh from the rooftop

November/December 2022 California Bountiful magazine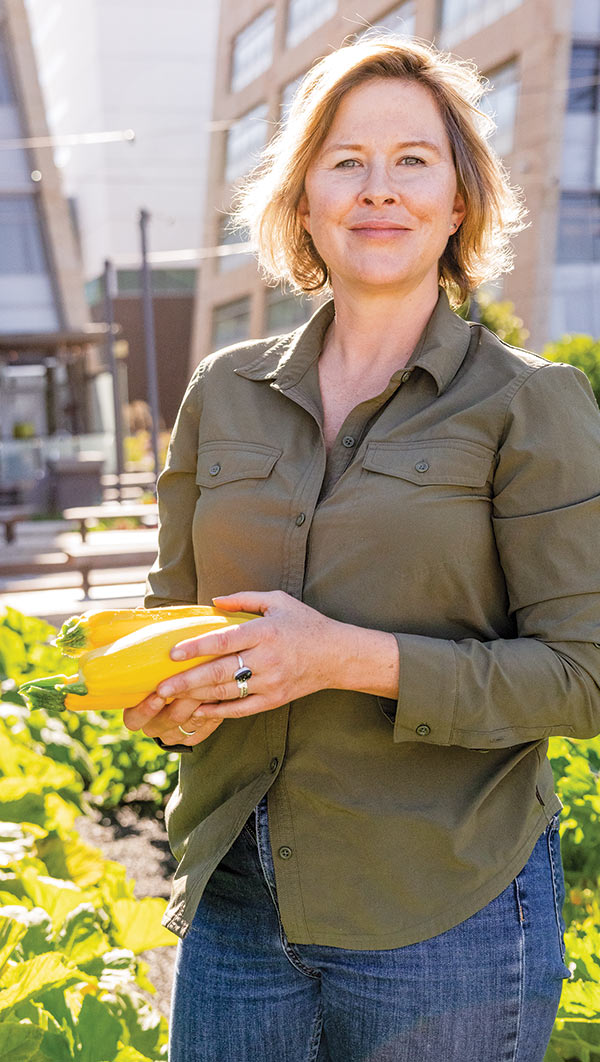 'Beloved space' provides city
views, restaurant ingredients
Story by Barbara Arciero
Garden photo by Erin Kunke
Food photos by Lori Eanes
Some chefs order their produce from a large company. Some shop at the local farmers market. But the chefs at Stem Kitchen and Garden in San Francisco can simply step onto their rooftop for the freshest fruits, vegetables, herbs and edible flowers.
They can thank Lara Hermanson and her team for that.
Hermanson is co-founder of Farmscape. Since 2008, the Bay Area-based company has designed, installed and maintained hundreds of urban farms throughout California. Clients range from agrihoods such as Rancho Mission Viejo in Orange County—agrihoods are communities centered around an organic farm as a central amenity—to Faithful Farm that sits atop Levi's Stadium in Santa Clara.
In partnership with Bon Appetit, the food-service company that helped launch Stem in 2018, Hermanson's team transformed a 1,000-square-foot ornamental garden into an urban farm that produces about 3,000 pounds of produce for the restaurant each year.
Admittedly, the small site can meet only a fraction of Stem's needs.
"What we tend to focus on are the things that they're not able to get in bulk anywhere else," Hermanson explains, "or things that have a tendency to spoil or become damaged in transport."
The culinary garden also features some permanent crops such as lemons, pineapple guava and blueberries, and row crops that typically change twice a year. Right now, the brassicas (broccoli, cauliflower, cabbage, kale) and root crops (carrots, beets, onions, potatoes) are thriving.
Stem's rooftop farm is a source of inspiration as well as ingredients.
"It's a completely beloved space," Hermanson says. "I think people are surprised how much food you can grow in an area that's mostly known for being cloudy and overcast and windy and cold. And mostly people just enjoy having this quiet garden, this respite in the city."